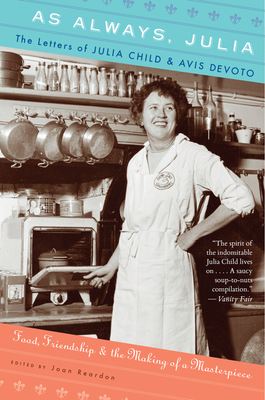 As Always, Julia (Paperback)
The Letters of Julia Child and Avis DeVoto
Mariner Books, 9780547577487, 432pp.
Publication Date: April 10, 2012
* Individual store prices may vary.
Description
A National Bestseller

Winner of an International Association of Culinary Professionals Award for Literary Food Writing

"An absorbing portrait of an unexpected friendship." — Entertainment Weekly

"Julia's inimitable voice shines through . . . These letters offer [a] glimpse of how the truly great can merge heart and soul in the pursuit of excellence." — Wall Street Journal

Julia is known around the world by her first name alone. But how much do we really know of the inner Julia Child? Through this riveting correspondence between Julia and Avis DeVoto, her "pen pal" and literary mentor, we hear Julia's deepest thoughts and feelings and witness the blossoming of a unique and lifelong friendship. We see, too, the turbulent creation of one of the most influential cookbooks ever written. Frank, bawdy, funny, exuberant, these astonishing letters show an America on the verge of political, social, and gastronomic transformation and two women deeply engaged in the making of that new world.

"[Child] comes booming back to life in these dishy missives . . . A delicious read." — People (3½ of 4 stars)

"Blazingly alive and entirely irresistible." — Boston Globe


About the Author
Culinary historian, cookbook author, and biographer Joan Reardon is the author of M.F.K. Fisher, Julia Child, and Alice Waters: Celebrating the Pleasures of the Table, M.F.K. Fisher Among the Pots and Pans, Poet of the Appetites: The Lives and Loves of M.F.K. Fisher, and Oysters: a Culinary Celebration. Reardon, who has a PhD in English literature, won an IACP Award for culinary writing, publishes and edits a quarterly newsletter for Les Dames d'Escoffier Chicago, and serves on the advisory board of Gastronomica magazine.
Praise For As Always, Julia: The Letters of Julia Child and Avis DeVoto…
"The spirit of the indomitable Julia Child lives on ... A saucy soup-to-nuts compilation."
—Vanity Fair
"An absorbing portrait of an unexpected friendship."
—Entertainment Weekly
"Julia's inimitable voice shines through ... These letters offer [a] glimpse of how the truly great can merge heart and soul in the pursuit of excellence."
—Wall Street Journal
"[Child] comes booming back to life in these dishy missives ... A delicious read."
—People (3½ of 4 stars)
"Blazingly alive and entirely irresistible."
—Boston Globe
"This book feels like chick lit ... of an exalted order ... Two housewives, each in her 40s ... let rip about all kinds of things, from shallots, beurre blanc and the misery of dried herbs to politics, aging and sex ... Funny and forthright opinions about food and life."
—New York Times
"A testament to the fortitude that went into creating a classic."
—Saveur
"Just as interesting as the behind-the-scenes nuts-and-bolts on this culinary landmark is the far subtler picture that is painted of these two women, the times in which they were living, and the friendship that grew between them ... The letters take on the resonance of a plainsong kind of poetry."
—Los Angeles Times
"Delightful . . . Expertly edited by the culinary historian Joan Reardon, [it] fills in that period of hard work, uncertainty, cheerleading and deepening love."
—Bloomberg
"A pleasure both culinary and literary . . . A lesson in how to become an American original."
—Whole Living
"An important piece of culinary history through the never-before-seen letters between these two witty women."
—New York Post
"A reminder of the power of persistence, of a dream or a friendship, and of the lost art of writing a letter."
—Oregonian
"Fascinating and engrossing."
—Dallas Morning News