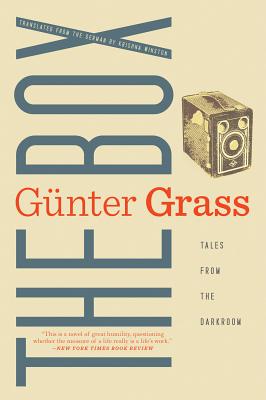 The Box
Tales from the Darkroom
Paperback

* Individual store prices may vary.
Other Editions of This Title:
Hardcover (11/1/2010)
Compact Disc (11/10/2010)
MP3 CD (11/10/2010)
Audio Cassette (11/1/2010)
Description
"It is impossible not to be impressed by [Grass's] inexhaustible desire to experiment with the novel and by the many good stories and passages of exquisite writing in The Box."—Charles Simic, New York Review of Books

In this inspired and daring work of fiction, Günter Grass writes in the voices of his eight children as they record memories of their childhoods, of growing up, and especially of their father, who was always at work on a new book, always at the margins of their lives. Memories contradictory, happy, loving, accusatory—they piece together an intimate picture of this most public of men. To say nothing of Marie, a photographer and family friend of many years, perhaps even a lover, whose snapshots taken with an old-fashioned Agfa box camera provide the author with ideas for his work. But her images offer much more than simple replication. They reveal a truth beyond ordinary life, depict the future, tell what might have been, grant the wishes of those photographed. The children speculate on the nature of this magic: Was the enchanted camera a source of inspiration for their father? Did it represent the power of art itself? Was it the eye of God? An audacious literary experiment, The Box is Grass at his best.

Praise For The Box: Tales from the Darkroom…
 "It may not be a memoir, but it is an exercise in soul-searching…this is a novel of great humility, questioning whether the measure of a life really is a life's work... [Grass] shows a remarkable willingness to kick a hole in the usual self-importance of a prize-winning author."
-The New York Times Book Review

"Functioning both as experimental fiction and as a sequel of sorts to Peeling the Onion, Grass's latest sheds light on a role the revered German author has thus far only touched upon: fatherhood." 
- Publishers Weekly, starred review 

"A family documentary in the form of a novel, leaving the reader to decide where the line blurs between fact and fiction…A short, engaging and puzzling novel: "He simply dreams us up!" says a daughter, as the reader wonders what to make of these dreams."
– Kirkus Reviews 


"The Box
  offers "the spectacle of a superb writer examining with playful seriousness and intelligent candor the relations between his work and the past."
-Boston Globe
"Freed from the defensive crouch of his straightforward memoir, Grass has produced something more obscure and occasionally just as beautiful."
-
The Daily Beast


"Is writing in this way the act of a generous father, maybe even a penitent one, or of a tyrannical egotist? This ambiguity is what gives 
The Box
its modest but genuine power." 
-Adam Kirsch,
Slate
"
The Box
moves between the voices of his eight children, in whose collage-like recollections their elusive father-- along with a mysterious woman whose Agfa box camera is an almost magical source of inspiration-- takes shape." 
-
Vogue
("Fall's Best Memoirs")
Mariner Books, 9780547577647, 208pp.
Publication Date: October 11, 2011
About the Author
GÜNTER GRASS (1927–2015), Germany's most celebrated contemporary writer, attained worldwide renown with the publication of his novel The Tin Drum in 1959. A man of remarkable versatility, Grass was a poet, playwright, social critic, graphic artist, and novelist. He was awarded the Nobel Prize for literature in 1999.