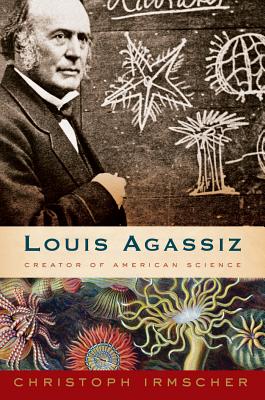 Louis Agassiz (Hardcover)
Creator of American Science
Houghton Mifflin Harcourt, 9780547577678, 448pp.
Publication Date: February 5, 2013
* Individual store prices may vary.
Description
Charismatic and controversial, Louis Agassiz is our least known revolutionary—some fifty years after American independence, he became a founding father of American science.
One hundred and seventy-five years ago, a Swiss immigrant took America by storm, launching American science as we know it. The irrepressible Louis Agassiz, legendary at a young age for his work on mountain glaciers, focused his prodigious energies on the fauna of the New World. Invited to deliver a series of lectures in Boston, he never left, becoming the most famous scientist of his time. A pioneer in field research and an obsessive collector, Agassiz enlisted the American public in a vast campaign to send him natural specimens, dead or alive, for his ingeniously conceived museum of comparative zoology. As an educator of enduring impact, he trained a generation of American scientists and science teachers, men and women alike. Irmscher sheds new light on Agassiz's fascinating partnership with his brilliant wife, Elizabeth Cary Agassiz, a science writer in her own right who would go on to become the first president of Radcliffe College. 
But there's a dark side to the story. Irmscher adds unflinching evidence of Agassiz's racist impulses and shows how avidly Americans looked to men of science to mediate race policy. The book's potent, original scenes include the pitched battle between Agassiz and his student Henry James Clark as well as the merciless, often amusing exchanges between Darwin and Harvard botanist Asa Gray over Agassiz's stubborn resistance to evolution.
A fascinating life story, both inspiring and cautionary, for anyone interested in the history of American ideas.

About the Author
Christoph Irmscher, professor of English at Indiana University, is editor of the Library of America John James Audubon and author of Longfellow Redux, called "one of the most important books on Longfellow ever written" (Matthew Pearl, author of The Dante Club and editor of Dante's Inferno: The Longfellow Translation).
Praise For Louis Agassiz: Creator of American Science…
 "Evocative new biography….Irmscher is a richly descriptive writer with an eye for detail, the compexities and contradictions of character, and the workings of institutional and familial power structures….This book is not just about a man of science but also about a scientific culture in the making—warts and all."
—The New York Times Book Review
"Compelling biography...A masterful portrait illuminating the tangled human dynamics of science."
—
Booklist, STARRED
"In Irmscher's hands, Agassiz's life and passions are embedded in the major intellectual ideas of his time…. The relationship between Agassiz and his second wife, Elizabeth Cary Agassiz, the first president of Radcliffe College, is also fascinating."
—Publishers Weekly


"Christoph Irmscher's elegant, beautifully written account does the essential task of setting the mysterious Agassiz in his full social and historical context, where we can both appreciate his gifts and see his flaws clearly. His portrayal of Elizabeth Agassiz and her contributions is brilliant, and his exploration of Agassiz's stagnation, as the world turned without him, is both rigorous and poignant. Through the prism of Agassiz's life, much of 19th-century culture gleams freshly."
—Andrea Barrett, author of Ship Fever and The Voyage of the Narwhal
"A biography as exuberant as its brilliant but wrong-headed subject, the unforgettable forgotten celebrity scientist Louis Agassiz. Christoph Irmscher is in his element detailing the exploits of this larger-than-life anti-hero of the Age of Darwin, whose feats of discovery took him from the Swiss Alps to the Amazon jungle and made him Harvard's reigning eminence for decades."
—Megan Marshall, author of The Peabody Sisters and Margaret Fuller
"Christoph Irmscher has brought to life an essential figure in the history of American science and culture. Irmscher's expertise and talent for vivid prose open a fascinating window onto the origins of American science as we know it."
—Matthew Pearl, author of The Dante Club
"A thoroughly satisfying biography…Irmscher makes a convincing case that this egotistical, often wrongheaded figure deserves his reputation as a founder and first great popularizer of American science."
—Kirkus Reviews
"Reading this book is a pleasure - the writing is engaging and witty, while always intellectually rewarding …. Irmscher's account of Agassiz's life reminds us always to examine our own preconceptions concerning the nature of reality and man's place in the universe."
—Tom Cronin, Professor of Biology, University of Maryland
or
Not Currently Available for Direct Purchase