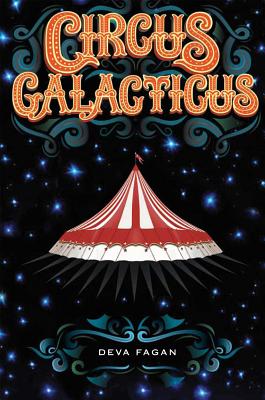 Circus Galacticus (Hardcover)
HMH Books for Young Readers, 9780547581361, 304pp.
Publication Date: November 15, 2011
Other Editions of This Title:
Paperback (11/6/2012)
* Individual store prices may vary.
Description
Rebel. Champion gymnast. Intergalactic traveler?
Trix can deal with being an orphan charity case at a snotty boarding school. She can hold her own when everyone else tells her not to dream big dreams. She can even fight back against the mysterious stranger in a silver mask who tries to steal the meteorite her parents trusted her to protect.
But her life is about to change forever. The Circus Galacticus has come to town, bringing acts to amaze, delight, and terrify. And now the dazzling but enigmatic young Ringmaster has offered Trix the chance to be a part of it.
Soon Trix discovers an entire universe full of deadly enemies and potential friends, not to mention space leeches, ancient alien artifacts, and exploding chocolate desserts. And she just might unravel the secrets of her own past—if she can survive long enough.
About the Author
Deva Fagan lives in Maine with her husband and her dog. She is not (to her knowledge) a space-faring mutant, though she has been known to dye her hair bright colors and is easily distracted by a particularly fine starry night sky. Visit her website at www.devafagan.com
Praise For Circus Galacticus…
"An exuberant, adventurous tightrope walk over the stars."
—Lisa Mantchev, author of Eyes Like Stars
"Highly, highly recommended!"
—Elizabeth C. Bunce, author of A Curse Dark as Gold
"A book that reaches for the stars and provides a thrilling ride."
—Kirkus
"Reminiscent of the juveniles of old, Fagan's story makes sci fi fun. It's loaded with wild coincidences and easily spotted inspirations (X-Men, Doctor Who), yet the underlying idea of valuing diversity, friendship, and self-esteem shines, carried by Fagan's solid writing, appealing characters, and sprinkles of whimsy."
—Publishers Weekly
"Fagan delivers [her story] convincingly in Trix's brisk narration. Ultimately, and entertainingly, the big-top inhabitants end up seeming like artsy American high-school students, and a pitiful lamentation like 'I am the worst friend in the universe' for once doesn't seem like an exaggeration."
—Booklist
"Like many of Fagan's female protagonists, Trix is lovably flawed, and her often-misguided stubbornness is forgivable in light of her fierce loyalty and determination."
—Bulletin
or
Not Currently Available for Direct Purchase