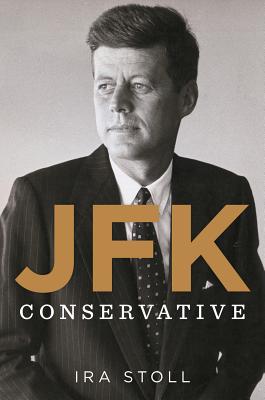 JFK, Conservative (Hardcover)
Houghton Mifflin Harcourt, 9780547585987, 288pp.
Publication Date: October 15, 2013
Other Editions of This Title:
Digital Audiobook (10/14/2013)
Paperback (10/7/2014)
Pre-Recorded Audio Player (10/15/2013)
Compact Disc (10/15/2013)
MP3 CD (10/15/2013)
Compact Disc (10/15/2013)
* Individual store prices may vary.
Description
A startling reconsideration of John F. Kennedy's record and achievements

John F. Kennedy is lionized by liberals. He inspired LBJ to push for landmark civil rights laws. His "New Frontier" promised new spending on education and medical care for the elderly. His champions insist he would have done great liberal things had he not been killed by Lee Harvey Oswald.

But what if we judge him by the lengthy record of his actual political career, in historical perspective? What if this hero of liberals was, in fact, the opposite of a liberal?

As Ira Stoll convincingly argues, by the standards of both his time and our own, John F. Kennedy was a conservative. His two great causes were anticommunism and economic growth. His tax cuts, which spurred one of the greatest economic booms in our history, were fiercely opposed by his more liberal advisers. He fought against unions. He pushed for free trade and a strong dollar. And above all, he pushed for a military buildup and an aggressive anticommunism around the world. Indeed, JFK had more in common with Ronald Reagan than with LBJ.
Not every Republican is a true heir to Kennedy, but hardly any Democrats deserve that mantle. JFK, Conservative is sure to appeal to conservative readers — and will force liberals to reconsider one of their icons.
About the Author
IRA STOLL is editor of FutureOfCapitalism.com, and the author of Samuel Adams: A Life. From 2002 to 2008 he was vice president and managing editor of The New York Sun. Previously, he served as Washington correspondent and managing editor of The Forward, as North American editor of the Jerusalem Post, and as president of the Harvard Crimson.
Praise For JFK, Conservative…
"An informative analysis of the ways in which J.F.K. did indeed evince his conservative side—he was very religious, open to a free market unencumbered by governmental interference, and staunchly anti-Communist." - Publishers Weekly"Insightful and well-researched...This volume will appeal to readers seeking an unvarnished appraisal of Kennedy policymaking." -Library Journal "Stoll makes a solid case by carefully scouring the record. A compelling textual study of how JFK became all things to all people." - Kirkus
"A wonderfully mischievous analysis...Stoll's lively disputation offers a distinctive contribution to the debate." -
New York Times Book Review
"Provocative and compelling...Ira Stoll has succeeded in changing our very perception of Kennedy as one of liberalism's heroes." --
The Weekly Standard
"Stoll convincingly argues that the president – despite his iconic status among liberals – had more in common with Republicans of the Reagan era." -- The Brooklyn Eagle
"All the more brilliant, then, is JFK, Conservative, Ira Stoll's new biography. Stoll cracks the surface of progressive nostalgia and digs up facts that others have left covered over. He shines his miner's flashlight on material that challenges the progressive stereotype and brings to light nuggets of information and resources that no one else has retrieved." -- Forbes
"Mr. Stoll makes a strong case that in 1960 'the anti-Communist, anti-big government candidate was John F. Kennedy. The one touting government programs and higher salaries for public employees was Richard Nixon,' he writes." -- The Wall Street Journal
"Stoll, author of a fine biography of Samuel Adams and former managing editor of the New York Sun, makes a strong case that conservatives should stake a claim to President Kennedy as one of their own. JFK, Conservative is a finely crafted brief for this interpretation — and it comes close to winning the case… Stoll makes a strong case that JFK was neither the idealistic liberal of legend nor even the pragmatic liberal that the historical consensus suggests he was…[An] excellent study." -- The National Review
"Loony" -- The New Yorker
"[Stoll] assembles sufficient evidence that his book's title is not merely provocative." --  George Will, The Washington Post
"JFK, Conservative is an eminently readable book, providing substantial and convincing evidence, both pro and con, as to how we should judge Kennedy's politics. Stoll does a particularly admirable job in his devil's advocacy, bringing forth much source material from Kennedy's liberal supporters as a counter-balance to his thesis...Stoll's book proves eye opening and enjoyable in showing that there were aspects of JFK's ideology worth admiring, much to the chagrin of his leftist champions." -- The Blaze
 
"I guarantee you this one's not going to be studied at the universities any time soon, so we need to study it in our own life." -- Glenn Beck
 
 "It is the best book of nonfiction I have read this entire year. It is provocative. It makes you rethink a lot of things. It changes what you thought you always knew." -- Jack Riccardi, KTSA Radio, San Antonio
 
 "It's overdue…I'm surprised no one has written this directly about JFK until now...Great book." – Howie Carr, WRKO Radio, Boston
or
Not Currently Available for Direct Purchase