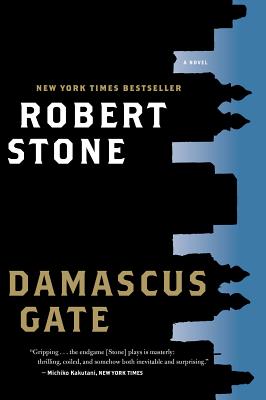 Damascus Gate (Paperback)
Mariner Books, 9780547599380, 528pp.
Publication Date: September 6, 2011
* Individual store prices may vary.
Description
"A stunning novel by a great American writer."—Washington Post

Jerusalem: home to seekers, heretics, hustlers, and madmen of many faiths. In this most fractious city, a plot unfolds to bomb the sacred Temple Mount.
      Christopher Lucas, an expatriate American journalist, stumbles upon the plot while investigating religious fanatics. Entangled in the intrigue are a nightclub singer, an unstable Jewish guru, a strung-out Kabbalist seeking the messiah, and a soldier of fortune routinely found at the world's violent clashes. A confrontation in Gaza, a chase through riot-filled streets, a cat-and-mouse game in an underground maze—as Lucas races against time, he uncovers the duplicity and depravity on all sides of Jerusalem's sacred struggle.
      An explosive bestseller, Damascus Gate lays bare the dangers at the fringes of faith.

"A transcendent thriller."—Time

"Brims over with plots, subplots, and an impressive array of incisively drawn characters . . . The range of [Stone's] knowledge is spectacular."—The New Yorker

"Damascus Gate asks enormous questions about cosmic truth—and its effect on those who think they own it—with intensity, intellectual rigor and abiding morality."—San Francisco Chronicle

About the Author
ROBERT STONE (1937–2015) was the acclaimed author of eight novels and two story collections, including Dog Soldiers, winner of the National Book Award, and Bear and His Daughter, a finalist for the Pulitzer Prize. His memoir, Prime Green, was published in 2007.
Praise For Damascus Gate…
"But while the religious quests of Stone's characters help drive his story, the novel is ultimately concerned less with metaphysics and cosmic order than with the earthly realm of politics and the human craving for certainty. The characters in Damascus Gate may be "God- struck," they may dream insistently of a better world, but like so many Stone characters, they end up captives of history and their own very human illusions." — The New York Times
"Heavy as a marble tablet, it delivers revelations about character and culture in the way that only a dense, textured novel can.... Precise and passionate, Damascus Gate is a stunning achievement." — Philadelphia Inquirer
"Damascus Gate asks enormous questions about cosmic truth—and its effect on those who think they own it—with intensity, intellectual rigor and abiding morality." — San Francisco Chronicle
"The writing, often dense with metaphor and landscape, is powerful, and the result is a pulsing, profound novel...." — Entertainment Weekly