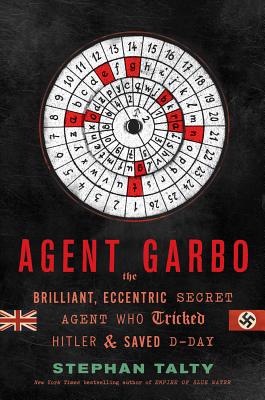 Agent Garbo
The Brilliant, Eccentric Secret Agent Who Tricked Hitler and Saved D-Day
Hardcover

* Individual store prices may vary.
Other Editions of This Title:
Paperback (5/7/2013)
Description
Were the D-Day landings saved from failure because of a lone secret agent?

Agent Garbo tells the astonishing story of a self-made secret agent who matched wits with the best minds of the Third Reich — and won. Juan Pujol was a nobody, a Barcelona poultry farmer determined to oppose the Nazis. Using only his gift for daring falsehoods, Pujol became Germany's most valued agent — or double agent: it took four tries before the British believed he was really on the Allies' side.

In the guise of Garbo, Pujol turned in a masterpiece of deception worthy of his big-screen namesake. He created an imaginary million-man army, invented armadas out of thin air, and brought a vast network of fictional subagents whirring to life. His unwitting German handlers believed every word, and banked on Garbo's lies as their only source of espionage within Great Britain.

For his greatest performance, Pujol had to convince the German High Command that the D-Day invasion of Normandy was a feint and the real attack was aimed at Calais. The Nazis bought it, turning the tide of battle at the crucial moment.

Based on years of archival research and interviews with Pujol's family, Agent Garbo is a true-life thriller set in the shadow world of espionage and deception.
Praise For Agent Garbo: The Brilliant, Eccentric Secret Agent Who Tricked Hitler and Saved D-Day…
"Juan Pujol is deserving of this biography, which captures not only his humanity, but also his humanism. Stephan Talty has delivered a beautiful report of every impossible day of Pujol's life, and AGENT GARBO is a confirmation of Donne's devotional, that 'when one man dies, one chapter is not torn out of the book, but translated into a better language.'"
--The Atlantic
"Talty gives us an appreciably richer picture not only of Pujol but also of an interwar period that could produce someone willing and able to undertake the duplicity required of a double agent. Along the way, the author captures the chilling realities of bloody battlefields, tense war rooms and besieged London. Elegantly crafted."
--The Wall Street Journal
"A wonderful book for WWII buffs, a true-life spy thriller with about as much intrigue and excitement as you'd find in a le Carré novel."
--Booklist  (starred)
"The exciting, improbable adventures of a young Spanish spy who managed to become Britain's most effective tool in deceiving Hitler. A lively, rollicking good read."
--Kirkus Reviews
"Epic intelligence coups of WWII unreel in this colorful caper saga. Talty's Pujol is a captivating character with a talent for operatic confabulation, but Garbo is just the alluring lead in massive deceptions that the author likens to Hollywood productions, complete with rubber tanks, fake ships, and a Montgomery impersonator. The result is a rollicking story of wartime eccentrics and their labyrinthine mind games."
--Publishers Weekly, starred
"AGENT GARBO is the fascinating story of a man whose wit, cunning, and steely nerves made the Allied victory possible in World War II. Stephan Talty's unsurpassed research brings forth one of the war's greatest agents in a must-read book for those who think they know all the great World War II stories."
— Gregory Freeman, author of The Forgotten 500
Houghton Mifflin Harcourt, 9780547614816, 320pp.
Publication Date: July 3, 2012
About the Author
STEPHAN TALTY is the award-winning author of Agent Garbo,Empire of Blue Water, and other best-selling works of narrative nonfiction. His books have been made into two films, the Oscar-winning Captain Phillips and Only the Brave. He is also the author of two psychological thrillers, including the New York Times bestseller Black Irish, set in his hometown of Buffalo. He has written for the New York Times Magazine,GQ, and many other publications. Talty now lives outside New York City with his family.
or
Not Currently Available for Direct Purchase