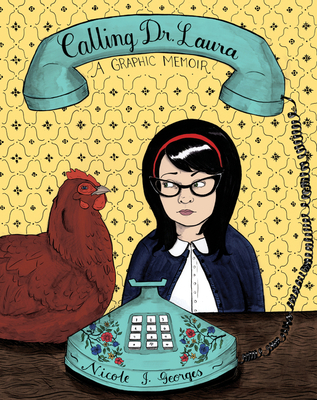 Calling Dr. Laura
A Graphic Memoir
Paperback

* Individual store prices may vary.
Description
When Nicole Georges was two years old, her family told her that her father was dead. When she was twenty-three, a psychic told her he was alive. Her sister, saddled with guilt, admits that the psychic is right and that the whole family has conspired to keep him a secret. Sent into a tailspin about her identity, Nicole turns to radio talk-show host Dr. Laura Schlessinger for advice.
Packed cover-to-cover with heartfelt and disarming black-and-white illustrations, Calling Dr. Laura tells the story of what happens to you when you are raised in a family of secrets, and what happens to your brain (and heart) when you learn the truth from an unlikely source. Part coming-of-age and part coming-out story, Calling Dr. Laura marks the arrival of an exciting and winning new voice in graphic literature.
Praise For Calling Dr. Laura: A Graphic Memoir…
"Honest and charming...[Georges] makes her debut as a developed and skilled storyteller."
-Philadelphia Inquirer
"A charmer."
-Cleveland Plain Dealer
"A bracing debut from a promising graphic novelist that deals with abuse, forgiveness, and family secrets."
-Daily Beast
"There's a depth to Georges' work...an intense interest in finding out not just who she is but what it means and why it matters."
-Oregonian
A "tart, honest graphic memoir."
-Slate
"A tragicomic graphic memoir with a stunning indie aesthetic."
-Bookslut
"An engrossing, lovable, smart and ultimately poignant trip through a harrowing emotional bottleneck in family life.  It's great art, great writing, a great story – I can't wait for what's next from Nicole. What a wonderful book."
-Rachel Maddow
"Engaging...incisive...The author approaches [her story] with the tenacity of a detective."
-Publishers Weekly
"Nicole Georges spins a riveting family mystery. There's a powerful chemistry going on between her delicate drawings and the probing honesty of her investigations. CALLING DR. LAURA is disarming and haunting, hip and sweet, all at once."
-Alison Bechdel
"I wouldn't want to live in a world without Nicole! And now no one has to! This book is a charming little gem. An honest glimpse into the life of a self-employed, smart and witty Portland femme gay with an upbringing so weird it's normal."
-Beth Ditto
"Anyone who knows Portland, OR. will know Nicole J. Georges, the witty girl with the cat glasses and a devoted following for her talents as an illustrator and zinester . . . Whatever the results, one can bet that this new work from Georges will be a good time."
-Lambda Literary, "Five New Queer Voices to Watch Out For"
Mariner Books, 9780547615592, 272pp.
Publication Date: January 22, 2013
About the Author
Nicole J. Georges is a professor, writer, and illustrator, who has been publishing her own zines and comics for twenty years. She is the author of the Lambda Award-winning graphic memoir Calling Dr. Laura and the diary comic Invincible Summer. She lives in Portland, Oregon.