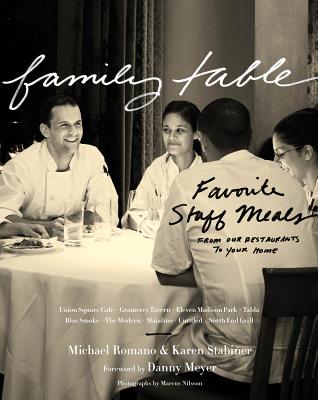 Family Table (Hardcover)
Favorite Staff Meals from Our Restaurants to Your Home
Rux Martin/Houghton Mifflin Harcourt, 9780547615622, 336pp.
Publication Date: April 2, 2013
* Individual store prices may vary.
Description
Some of the Best Food You'll Never Eat in a Restaurant

Danny Meyer's restaurants are among the most acclaimed and beloved in the nation: Union Square Cafe, Gramercy Tavern, Maialino, Blue Smoke, The Modern, and more, winners of an unprecedented number of James Beard Awards for outstanding food and hospitality. Family Table takes you behind the scenes of these restaurants to share the food that the chefs make for one another before they cook for you.

Each day, before the lunch and dinner services, the staff sits down to a "family meal." It is simple, often improvised, but special enough to please the chefs' discerning palates. Now, for the first time, the restaurants' culinary director, Michael Romano, coauthor of the award-winning Union Square Cafe Cookbook, collects and refines his favorite in-house dishes for the home cook, served alongside Karen Stabiner's stories about the restaurants' often-unsung heroes, and about how this imaginative array of dishes came to be. Their collaboration celebrates food, the family itself, and the restaurants' rich backstage life.

Some of the recipes are global and regional specialties: Mama Romano's Lasagna, Dominican Chicken, Thai Beef, Layered Huevos Rancheros, and Southern Cola-Braised Short Ribs. Many highlight fresh produce, like Michael Anthony's Corn Soup, Barley & Spring Vegetables with Pesto, Grilled Halibut with Cherry Tomatoes, Sugar Snap Peas & Lemon, and Plum & Apricot Crisp with Almond Cream. There are homey dishes like Turkey & Vegetable Potpie with Biscuit Crust and Streusel-Swirl Coffee Cake, and inventive, contemporary takes, like Cornmeal-Crusted Fish Tacos with Black Bean & Peach Salsa and a delightfully tangy Buttermilk Panna Cotta with Rhubarb-Strawberry Compote. What all these recipes have in common is ease and perfection.

Family Table is an invitation from the restaurant family to you: Please join in.
About the Author
Michael Romano is the culinary director for the Union Square Hospitality Group and co-owner of Union Square Cafe, which won a James Beard Award under his direction. With Danny Meyer, he wrote the James Beard Award-winning Union Square Cafe Cookbook and Second Helpings from Union Square Cafe. He was inducted into Beard Foundation's Who's Who of Food and Beverage.

Karen Stabiner is an adjunct professor at Columbia's graduate school of journalism. Her work has appeared in Saveur, the New York Times, the Los Angeles Times, Vogue, and Travel & Leisure. She is the co-author of The Valentino Cookbook.

Considered by the New York Times to be "the greatest restaurateur Manhattan has ever seen," Danny Meyer is CEO of the Union Square Hospitality Group. His restaurants have won an unprecedented twenty-one James Beard Awards. His book, Setting the Table, was a New York Times bestseller.
Praise For Family Table: Favorite Staff Meals from Our Restaurants to Your Home…
"Part haute cuisine, part comfort food, dinners that chefs whip up for their kitchen- and waitstaffs before the evening's guests pile in serve as an object lesson in thoughtful meal planning."
—Booklist

"Before restaurant chefs cook for you, we cook for ourselves. What we prepare for our fellow chefs and staff is every bit as important to us as what we make for guests when the dinner service starts. With this wonderful book devoted to the meals he makes for his own restaurant family, Michael Romano gives us an intimate look at the dishes that are closest to his heart: food that is personal, generous, and nurturing. Family Table isn¹t just a source of delicious dishes. It¹s a beautiful reminder of what cooking and eating are all about."
—Thomas Keller
"Danny Meyer, Michael Romano, and the kitchen team at Union Square Hospitality are redefining hospitality daily at their roster of superior restaurants. This behind-the-scenes look at Michael's genius operation offers the dishes you'll never experience on the restaurant floor. It's the food the chefs cook for each other, which of course we all want to eat too!"
—Mario Batali
"I always say to my team, 'Cook the staff meal with the same care as if you were going to serve it to your mother.' The stories and recipes in this book really encapsulate the passion that chefs should show while preparing their 'family's' meals."
—Daniel Boulud
"Family Table gets the mouth watering at first read: Here are recipes that are approachable but blessed with little twists and turns to pique the palate."
—Cooking Light