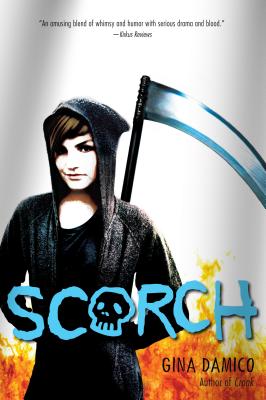 Scorch
Paperback

* Individual store prices may vary.
Description
Sixteen-year-old Lex Bartleby is a teenage grim reaper with the bizarre ability to Damn souls. That makes her pretty scary, even to fellow Grims. But after inadvertently transferring her ability to Zara, a murderous outlaw, Lex is a pariah in Croak, the little town she calls home. To escape the townspeople's wrath, she and her friends embark on a wild road trip to DeMyse. Though this sparkling desert oasis is full of luxuries and amusements, it feels like a prison to Lex. Her best chance at escape would be to stop Zara once and for all—but how can she do that from DeMyse, where the Grims seem mysteriously oblivious to Zara's killing spree?
Praise For Scorch…
Praise for Scorch
"An amusing blend of whimsy and humor with serious drama and blood."
—Kirkus Reviews
"Characters are always as clever as we wish we were. . . . An irresistible blend of impending doom, irreverent humor, hormone-fueled make-out sessions, and creative world-building make this sequel stronger than its predecessor and will leave readers dying for the next book."
—SLJ
Praise for Croak
"Go ahead and die laughing, knowing that the safe transport of your mortal soul will be the summer job of a sweetheart teen with godlike power and discipline problems. A lot of books make me wish I could live within their pages, but I wouldn't mind dying in this one."
—Adam Rex, author of Fat Vampire
"Creepy and hilarious."
—VOYA, 4Q, 5P
Praise for Rogue
"A gut-wrenching, laugh-out-loud, gritty, honest and brave ending to an appealing trilogy."
—Kirkus
Clarion Books, 9780547624570, 352pp.
Publication Date: September 25, 2012
About the Author
Gina Damico is the author of Hellhole, Wax, and the grim-reapers-gone-wild books of the Croak trilogy. She has also dabbled as a tour guide, transcriptionist, theater house manager, scenic artist, movie extra, office troll, retail monkey, yarn hawker and breadmonger. A native of Syracuse, New York, she now lives in Los Angeles with her husband, two cats, one dog, and an obscene amount of weird things purchased from yard sales. Visit her website at www.ginadami.co.