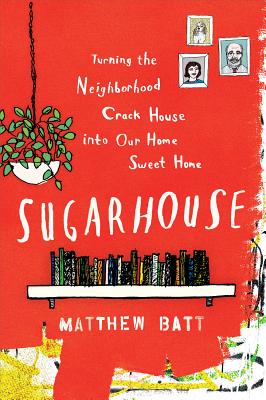 Sugarhouse
Turning the Neighborhood Crack House into Our Home Sweet Home
Paperback

* Individual store prices may vary.
Description
An improbably funny account of how the purchase and restoration of a disaster of a fixer-upper saves a young marriage

When a season of ludicrous loss tests the mettle of their marriage, Matthew Batt and his wife decide not to call it quits. They set their sights instead on the purchase of a dilapidated house in the Sugarhouse section of Salt Lake City. With no homesteading experience and a full-blown quarter-life crisis on their hands, these perpetual grad students/waiters/nonprofiteers decide to seek salvation through renovation, and do all they can to turn a former crack house into a home. Dizzy with despair, doubt, and the side effects of using the rough equivalent of napalm to detoxify their house, they enter into full-fledged adulthood with power tools in hand.

Heartfelt and joyous, Sugarhouse is the story of how one couple conquers adversity and creates an addition to their family, as well as their home.


Praise For Sugarhouse: Turning the Neighborhood Crack House into Our Home Sweet Home…
"Batt makes the story feel fresh through a combination of lively storytelling, some very funny misadventures, and a goodly portion of real human drama, for the decision to buy a house wasn't a whim, being prompted by some pretty dire circumstances.
A thoroughly enjoyable variation on a venerable theme."

--
Booklist
"Batt's home-rehab picaresque is hilarious, engrossing, and stocked with a cast of squirrely tradesmen and manic realtors...a charming take on domesticity . "
--Publishers Weekly
"Whether the focus is on the installation of a hand-cut slate floor tile or Grandpa's new floozy girlfriend, Batt's retelling is fast-paced. Everyone has a crazy family, but who has a crazy family and a crack house to renovate into a first home at the same time? That takes guts or insanity, and the fun of this book in finding out how it all ends up. VERDICT
His description of "I don't belong here" aisles in Home Depot feels so familiar.
While it's no how-to, this book makes it fun to follow Batt's how-we-did-it, warts and all
."
--
Library Journal
"It's hard to write funny, especially when your world is crumbling around you, but in this utterly compelling memoir, Matt Batt makes it look easy. This is a sweet and deeply memorable debut by a writer who's clearly the real thing."
— Andre Dubus III, author of Townie
"
Sugarhouse
is hilarious. It's also sad. And uplifting. Ultimately it's a story about the most quotidian and most important thing any of us will do: make a home.
Anyone who has ever argued over floor tile, loved a willful grandparent, or wondered what an orbital sander is, will enjoy this charming book
."
-Anthony Doerr, author of
Memory Wall
"Sugarhouse is a whale of a book -- an uproariously funny and deeply affecting account of home ownership and its discontents. Matt Batt has written a must-read manifesto for anyone who's ever faced off against a fast-talking real estate agent, an impossibly stubborn varnish, or a family on the brink of heartbreak. I'm still not sure how he managed to stuff so much life into one little book, but I'm dazzled at his achievement."
-Steve Almond, author of Candyfreak

"
Matt Batt proves himself an oddball cousin to Thoreau and Tracy Kidder in Sugarhouse, a charming and compelling memoir
in which a professor of writing decides to renovate a disaster of a house. Read the first two chapters, and you are likely to sign on eagerly for the rest of the telling, which shuttles easily back and forth from theory to practice, from humorous narrative to deepening meditation."
-Billy Collins, poet laureate of the United States, 2001-2003
"Winning, funny, and crackling with life, Sugarhouse is a can't-put-down chronicle of a bad house gone good and a good family gone in directions the author didn't expect. Batt's book about glue, grace, gumption, and the grit it takes to keep on living is an unforgettable and sweet read."
-Cheryl Strayed, author of Wild
"This is one
charming
book, told by a self-effacing Midwesterner way over his head, who leads the reader through the quotidian experience of buying and renovating a house in such a fashion that it takes on all the dire import and difficulty of Hercules' famous tasks. While Batt doesn't have to clean the Stygian Stables to get his house in order (in every sense of that phrase), his feat seems nearly as difficult and should not go unheralded.
A DIY book to end all DIY books, full of wit and generosity and mercy
for the foibles of family members, friends, hucksters, and most importantly himself
."
- Robin Hemley, author of
Do-Over!
Mariner Books, 9780547634531, 272pp.
Publication Date: June 19, 2012
About the Author
Matt Batt's work has appeared in Tin House and on The Huffington Post and elsewhere. The Missouri Review  called him a "heavy hitter" of nonfiction, and he's been nominated six times for the Pushcart Prize and is the recipient of an individual Artist Grant from the National Endowment for the Arts.