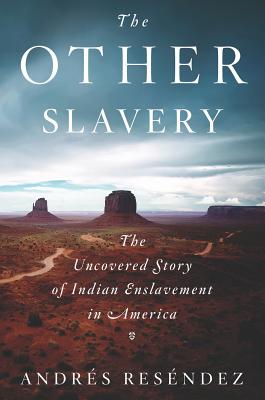 The Other Slavery
The Uncovered Story of Indian Enslavement in America
Hardcover

* Individual store prices may vary.
Other Editions of This Title:
Paperback (4/18/2017)
MP3 CD (1/17/2017)
Description
A landmark history — the sweeping story of the enslavement of tens of thousands of Indians across America, from the time of the conquistadors up to the early 20th century
Since the time of Columbus, Indian slavery was illegal in much of the American continent. Yet, as Andrés Reséndez illuminates in his myth-shattering
The Other Slavery
, it was practiced for centuries as an open secret. There was no abolitionist movement to protect the tens of thousands of natives who were kidnapped and enslaved by the conquistadors, then forced to descend into the "mouth of hell" of eighteenth-century silver mines or, later, made to serve as domestics for Mormon settlers and rich Anglos.    
Reséndez builds the incisive case that it was mass slavery, more than epidemics, that decimated Indian populations across North America. New evidence, including testimonies of courageous priests, rapacious merchants, Indian captives, and Anglo colonists, sheds light too on Indian enslavement of other Indians — as what started as a European business passed into the hands of indigenous operators and spread like wildfire across vast tracts of the American Southwest.  
The Other Slavery
reveals nothing less than a key missing piece of American history.  For over two centuries we have fought over, abolished, and tried to come to grips with African-American slavery.  It is time for the West to confront an entirely separate, equally devastating enslavement we have long failed truly to see.
Praise For The Other Slavery: The Uncovered Story of Indian Enslavement in America…
A National Book Award finalist

"Reséndez corrects a blind spot in our understanding of North American history and illuminates mechanisms by which present-day versions of the practice endure."—The New Yorker

"This book is, arguably, one of the most profound contributions to North American history published since Patricia Nelson Limerick's "Legacy of Conquest" and Richard White's "The Middle Ground." But it's not necessary to be into history to understand its power: Our world is still the world Reséndez so eloquently anatomizes." —Los Angeles Times

"The Other Slavery is a necessary work that occupies a loaded historical landscape; Reséndez keeps a deliberate scholarly distance from the material, bringing forth evidence and constructing careful — even conservative — arguments. But that evidence speaks for itself, and the horrors quietly pile up." — NPR.org

"No other book before has so thoroughly related the broad history of Indian slavery in the Americas, and not just its facts but the very reason it has been overlooked." —San Francisco Chronicle

"Reséndez is adept at untangling the intertribal slave trade, as well as the pernicious behavior of white settlers in northern California."—Philadelphia Inquirer

"With his new book, Reséndez joins a small but growing group of historians reexamining the scope and nutre of slavery in the Southwest and Native America."—Santa Fe New Mexican

"The Other Slavery is an eye-opening story about the enslavement of Indians. It is well researched and well written—a tragic, but fascinating look at a little explored dark corner of New World history." —eMissourian

"Every now and then a new book comes along that throws a switch on our historical valences and makes us see ourselves anew. The Other Slavery is one such book. Much as Bury My Heart at Wounded Knee did when it first appeared in the early 1970s, Andrés Reséndez's carefully sifted work fundamentally reshapes our understanding of a great enduring mystery: What really accounts for the swift and tragic demise of our continent's indigenous peoples?" —Hampton Sides, author of Blood and Thunder and In the Kingdom of Ice

"In The Other Slavery Andrés Reséndez retells a vast section of Native American and North American history by putting forced labor in its multiple forms at the center. The result is a revealing, tragic, and heartbreaking history." —Richard White, Margaret Byrne Professor of American History, Stanford University

"This eye-opening exposure of the abuse of the indigenous peoples of America is staggering; that the mistreatment continued into the 20th century is beyond disturbing." —Kirkus

"Emphasizing the variety of experiences of unfree labor suffered over five centuries by individuals from communities as culturally diverse and geographically separate as the Maya, the Apache, and indigenous Caribbeans, Reséndez vividly recounts the harrowing story of a previously little-known aspect of the histories of American slavery and of encounters between indigenes and invaders. " — Publisher's Weekly

"Today, with the complex and myriad effects of globalization frequently in the news, human trafficking has managed to endure. The Other Slavery both reminds and cautions: Man's inhumanity to man is still making history." — BookPage

"At a time when we are struggling to come to grips with the legacy of our long-time African slavery experience, it is only right that we should also acknowledge and inform ourselves of the human tragedy endured by the indigenous people of this hemisphere from Columbus' first contact to the present." — New York Journal of Books
Houghton Mifflin Harcourt, 9780547640983, 448pp.
Publication Date: April 12, 2016
About the Author
ANDRÉS RESÉNDEZ is a professor and historian at the University of California, Davis. He is the author of A Land So Strange: The Epic Journey of Cabeza de Vaca, which Carolyn See called "impossible to put down" (Washington Post Book World). He lives in Davis, California.
or
Not Currently Available for Direct Purchase