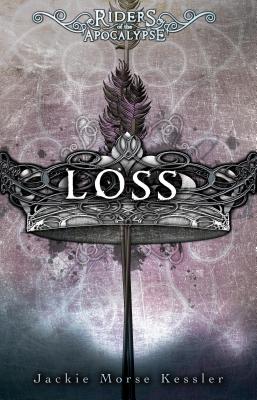 Loss (Riders of the Apocalypse) (Paperback)
Graphia Books, 9780547712154, 258pp.
Publication Date: March 20, 2012
Description
Fifteen-year-old Billy Ballard is the kid that everyone picks on. But things change
drastically when Death tells Billy he must stand in as Pestilence, the White Rider of
the Apocalypse. Now armed with a Bow that allows him to strike with disease from
a distance, Billy lashes out at his tormentors...and accidentally causes an outbreak of
meningitis. Horrified by his actions, Billy begs Death to take back the Bow. For that to
happen, says Death, Billy must track down the real White Rider, and stop him from
unleashing something awful on humanity--something that could make the Black
Plague look like a summer cold. Does one bullied teenager have the strength to stand
his ground--and the courage to save the world?
Praise For Loss (Riders of the Apocalypse)…
"Kessler's third book in the Riders of the Apocalypse series stays true to the initial premise of exposing a teen affliction--this time bullying--by providing an allegorical analysis of its effects and offering hope to its sufferers."--Booklist
"Kessler again succeeds in telling a great story with difficult topics. . . readers will easily be pulled into this fascinating world. . . . Loss is the best in the series so far."--Romantic Times
"Jackie Morse Kessler has a keen eye for capturing the awkward uncertainty of adolescence, which she wraps quite deliciously in a coating of mystery, fright, and suspense.
Loss
is a treat for readers, a one-of-a-kind, twisty turny carnival ride through Billy Ballard's struggles and triumphs. I loved this book."—Andrew Smith, author of
The Marbury Lens
"I lost sleep to finish this, and I'm not sorry at all. Jackie Morse Kessler's prose illuminates an ancient, disintegrating king as poignantly and effortlessly as it does a bullied teen; it's easy to see ourselves reflected in Mita's grief and Billy's desperation. LOSS is whip-smart and elegant, a truly worthy companion to HUNGER and RAGE."—Saundra Mitchell, author of
The Vespertine
"Gritty and raw with powerful truths. An addictive read."--Sophie Jordan New York Times bestselling author
of Firelight
Praise for Hunger: "The storytelling is both realistic and compassionate....the writing is never preachy, and it allows an interesting exploration of both intensely personal food issues and global ones."—School Library Journal, starred review

"[The author's] ear for dialogue, fluid prose and dark humor elevate this brief novel above other 'issue books.'"—Kirkus Reviews
"Powerful, fast-paced, hilarious, heart-wrenching, vivid, sad and most of all real,
Hunger
is a breathtaking portrayal of a difficult topic that also deftly ties in with the interesting and scary apocalypse. Though short, this story will grab the reader and never let go." —
Romantic Times Magazine
"Kessler offers a refreshingly new approach to the YA eating-disorder genre that reinforces the difficulty of conquering these diseases."—
Booklist
"Jackie Morse Kessler does a fine job of taking a critical issue that has been explored in writing no small number of times, and putting a new and thought provoking spin on it. It was sheer genius to combine the eating disorder anorexia with the ultimate entity signifying lack of food, nourishment and all that that entails: famine."—
New York Journal of Books
"
Hunger
is not just a good book. It is a great book. It is funny and sad, brilliant and tragic, and most of all, it speaks truth. . . . I adore it."—Rachel Caine, author of
The Morganville Vampires
"A fantastic and gripping read that never shies from its difficult subject matter, Kessler illuminates, through the Horsemen of the Apocalypse, a very real problem facing teens today. . . . This book is a knockout."—A.S. King, author of
The Dust of 100 Dogs
Praise for Rage:
"The elegant mix of dark humor, brilliantly developed characters, and just enough moral threads to lead readers to make their own conclusions is impressive."—Bulletin
"Rage is raw and real, a truly dark, honest look at self-harm and the teenage psyche. Kessler left me breathless."—Heather Brewer, author of the New York Times bestselling series, The Chronicles of Vladimir Tod

"Skillfully rendered...sympathetically narrated...dark humor and realistic situations." —Kirkus Reviews
"Like Hunger before it, Rage tackles a vital teen issue with delicacy and intelligence without preaching. Raw, visceral, pulling no punches, this story strikes home like a razor blade. It's unforgettable, heart wrenching, and enlightening."—Realms of Fantasy
Advertisement