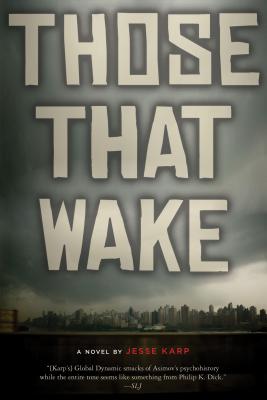 Those That Wake
Paperback

* Individual store prices may vary.
Description
New York City's spirit has been crushed. People walk the streets with their heads down, withdrawing from one another and into the cold comfort of technology. Teenagers Mal and Laura have grown up in this reality. They've never met. Seemingly, they never will. 

But on the same day Mal learns his brother has disappeared, Laura discovers her parents have forgotten her. Both begin a search for their families that leads them to the same truth: someone or something has wiped the teens from the memories of every person they have ever known. Thrown together, Mal and Laura must find common ground as they attempt to reclaim their pasts.
Praise For Those That Wake…
"This dystopian mind bender is quite complex, and the steadily building plot takes several mysterious twists. The book begins in a very realistic manner, introducing the teen protagonists as well-developed and likeable characters while systematically adding layers and new characters to their story. As the book nears its conclusion, that sense of reality shifts considerably and sometimes throws the reader off kilter. The story is quick moving and full of action, both physical and intellectual. While reluctant or struggling readers may find this book difficult to follow, it is highly recommended for teen and adult readers who are willing to take on a challenging read for the payoff of a well-written, intricately plotted story."—VOYA

"This first novel is an ambitious, cautionary—and even paranoiac—story of the soul-destroying power of a consumer society run amok and the near-cosmic forces it unleashes. It's a fascinating premise, and though the page-turning action slows a bit in the second half to explore some of the more abstruse causes behind the mind-bending effects, that doesn't detract from the great many intriguing, original, and thought provoking ideas at play here.."—Booklist —
Clarion Books, 9780547722009, 336pp.
Publication Date: March 20, 2012
About the Author
Jesse Karp is a school librarian in Greenwich Village. He grew up in and loves New York City, where he lives with his family. Visit him at www.beyondwhereyoustand.com.