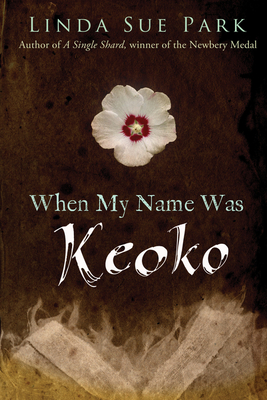 When My Name Was Keoko (Paperback)
Clarion Books, 9780547722399, 208pp.
Publication Date: April 17, 2012
Other Editions of This Title:
Digital Audiobook (7/2/2015)
Prebound (4/17/2012)
Paperback (1/13/2004)
Hardcover (3/1/2002)
Prebound (1/1/2004)
Prebound (1/1/2004)
* Individual store prices may vary.
Description
Sun-hee and her older brother, Tae-yul, live in Korea with their parents. Because Korea is under Japanese occupation, the children study Japanese and speak it at school. Their own language, their flag, the folktales Uncle tells them—even their names—are all part of the Korean culture that is now forbidden. When World War II comes to Korea, Sun-hee is surprised that the Japanese expect their Korean subjects to fight on their side. But the greatest shock of all comes when Tae-yul enlists in the Japanese army in an attempt to protect Uncle, who is suspected of aiding the Korean resistance. Sun-hee stays behind, entrusted with the life-and-death secrets of a family at war.
About the Author
Linda Sue Park is the author of bestseller A Long Walk to Water as well as the Newbery Medal book A Single Shard and many other acclaimed novels and picture books. She lives in Rochester, NY. www.lspark.com,Twitter: @LindaSuePark.
Praise For When My Name Was Keoko…
This powerful and riveting tale of one close-knit, proud Korean family movingly addresses life-and-death issues of courage and collaboration, injustice, and death-defying determination in the face of totalitarian oppression. —Kirkus Reviews with Pointers
A brother and sister alternate as narrators in Newbery Medalist Park's (A Single Shard) well-contructed novel, which takes place from 1940-1945 in Japanese-occupied Korea. . . .Through the use of shifting narrators, Park subtly points up the differences between male and female roles in Korean society; and the father's process of choosing the family's Japanese name speaks volumes about his strength and intelligence. . . . Readers will come away with an appreciation of this period of history and likely a greater interest in learning more about it. —Publishers Weekly, Starred
Park is a masterful prose stylist, and her characters are developed beautifully. She excels at making traditional Korean culture accessible to Western readers. —VOYA (Voice of Youth Advocates)
The drama is in the facts about the war, and Park does a fine job of showing how the politics of the occupation and resistance affect ordinary people. —Booklist, ALA
What is outstanding is the insight Park gives into the complex minds of these young people. Each of them reacts to the events in different ways—Sun-hee takes refuge in writing while Tae-yul throws his energies into physical work. . . . This beautifully crafted and moving novel joins a small but growing body of literature[.] —School Library Journal, Starred
"Vivid…historical details heighten realism. The final scene shines with hope….a beautifully crafted story that delights as it informs." —Riverbank Review