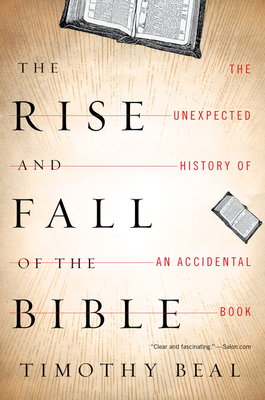 The Rise and Fall of the Bible (Paperback)
The Unexpected History of an Accidental Book
Mariner Books, 9780547737348, 256pp.
Publication Date: April 10, 2012
Other Editions of This Title:
Hardcover (2/16/2011)
* Individual store prices may vary.
Description
"Personal and accessible . . . The Rise and Fall of the Bible is Beal's attempt to shatter this popular understanding of the Bible as a combination of divine instruction manual and self-help book."—Adam Kirsch, Tablet
In this revelatory exploration, a noted religion scholar and former evangelical Christian takes us back to early Christianity to ask how a box of handwritten scrolls became the Bible, and forward to see how the multibillion-dollar business that has brought us Biblezines and manga Bibles is selling down the Bible's sacred capital. Among his surprising insights:
*Christianity thrived for centuries without any Bible. Early congregations used collections of scrolls; there was no official canon of scriptures and no book existed that was big enough to hold them.
*The idea of the Bible as the literal Word of God is only about a century old.
*There is no "original" Bible behind the thousands of Bibles on the market today. The further back we go in the Bible's history, the more versions we find.
In The Rise and Fall of the Bible Beal offers a chance to rediscover a Bible, and a faith, that is truer to its own history—not a book of answers but a library of questions.
"Part autobiography, part social scientific research, part shrewd discernment, and part theological interpretation—Tim Beal has written a zinger of a book about the cultural history of the Bible. This welcome and important book will cause a pause before we make glib claims for 'the Word of the Lord.'" —Walter Brueggemann
"Beal . . . makes a compelling case against the idea of a fully consistent and unerring book, positing instead a very human volume with all the twists and foibles of the human experience, truly reflecting that human experience. He presents a convincing case for a radical rereading of the text, an honest appreciation of this sacred book. An engrossing and excellent work, highly recommended."—Publishers Weekly, starred review
About the Author
TIMOTHY BEAL is Florence Harkness Professor of Religion at Case Western Reserve University. He has published eleven books, including Biblical Literacy: The Essential Bible Stories Everyone Needs to Know and Roadside Religion: In Search of the Sacred, the Strange, and the Substance of Faith, a New York Times Book Review Editors' Choice and one of Publishers Weekly's ten best religion books of 2005. He has published essays in the New York Times, the Washington Post, and the Chronicle of Higher Education.
Praise For The Rise and Fall of the Bible: The Unexpected History of an Accidental Book…
"This amazing book will make you see the Scriptures in a new light. Beal shows us that the origins of the Bible are messy and shaped by chance, but also that the Bible still can move us and needs to be taken seriously . Thou shalt read Beal." 
—A.J. Jacobs, author of The Year of Living Biblically


"Beal's exciting book offers both fascinating history and a new and insightful way to approach the 'sacred text'." 
—John Shelby Spong, author of Eternal Life: A New Vision

"The Bible, an infallible book of answers to all life's questions? Timothy Beal demolishes that claim using the texts themselves, and offers the vision of a productive future in which the biblical process of argumentation will thrive in the digital environment." 
—Bruce Chilton, author of Rabbi Jesus
" Partly autobiography, partly social scientific research, partly shrewd discernment, and partly theological interpretation, Tim Beal has written a zinger of a book about the cultural history of the Bible. This welcome and important book will cause a pause before we make glib claims for "the Word of the Lord." 
—Walter Brueggemann 

"A lot of us know just enough about the Bible to make us dangerous. Tim Beal wants to take us deeper in our understanding - not just about what the Bible says, but about what it is, and how it came to us in its many current forms. Under Beal's instruction, we will lose some of our naivete, but we'll gain maturity of insight that will more than compensate. A needed book from a talented writer." 
—Brian D. McLaren, author of A New Kind of Christianity 

"Remarkably accessible...Beal is more than just a debunker; in fact, once evangelical, he still considers himself a Christian. He exhorts readers to see the Bible not as a book of finite answers but as a crucible of questions that provoke, inspire, and even anger those who pick it up. The same might be said about his own book." 
—STARRED review, Booklist "Well-written and engaging...A laudable look at the Good Book." 
—Kirkus
"Smart and conversational, Beal provides the kind of context about the Bible's ancient origins in the Holy Land, and its recent marketing by American entrepreneurs, that anyone who reads it should know." - New Jersey Star Ledger "The Rise and Fall of the Bible" is a
succinct, clear and fascinating look
at two phenomena: what Beal calls "biblical consumerism" -- in which buying Bibles and Bible-related publications and products substitutes for more meaningful encounters with the foundational text of Western Civilization -- and the history of how the book came to be assembled. - Salon.com