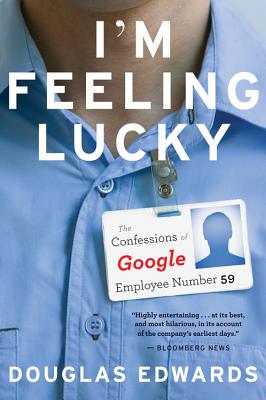 I'm Feeling Lucky (Paperback)
The Confessions of Google Employee Number 59
Mariner Books, 9780547737393, 432pp.
Publication Date: April 3, 2012
Other Editions of This Title:
MP3 CD (10/11/2016)
Hardcover (7/12/2011)
Hardcover (7/1/2011)
MP3 CD (4/3/2012)
MP3 CD (4/3/2012)
Compact Disc (4/3/2012)
Compact Disc (4/3/2012)
* Individual store prices may vary.
Description
"An exciting story [that] shines light on the inner workings of the fledgling Google and on the personalities of its founders."—The Daily Beast

In its infancy, Google embraced extremes—endless days fueled by unlimited free food, nonstop data-based debates, and blood-letting hockey games. The company's fresh-from-grad-school leaders sought more than old notions of success; they wanted to make all the information in the world available to everyone—instantly. Google, like the Big Bang, was a singularity—an explosive release of raw intelligence and unequaled creative energy—and while others have described what Google accomplished, no one has explained how it felt to be a part of it. Until now.

As employee number 59, Douglas Edwards was a key part of Google's earliest days. Experience the unnerving mix of camaraderie and competition as Larry Page and Sergey Brin create a famously nonhierarchical structure, fight against conventional wisdom, and race to implement myriad new features while coolly burying broken ideas. I'm Feeling Lucky captures the self-created culture of the world's most transformative corporation and offers unique access to the emotions experienced by those who virtually overnight built one of the world's best-known brands.

"Edwards does an excellent job of telling his story with a fun, outsider-insider voice. The writing is sharp."—Boston Globe

"An affectionate, compulsively readable recounting of the early years of Google."—Publishers Weekly
About the Author
DOUG EDWARDS was the director of consumer marketing and brand management at Google from 1999 to 2005 and was responsible for setting the tone and direction of the company's communications with its users. Prior to joining Google, Edwards was the online brand group manager for the San Jose Mercury News, where he conceived and led development of the technology news site siliconvalley.com.
Praise For I'm Feeling Lucky: The Confessions of Google Employee Number 59…
I'm Feeling Lucky is funny, revealing, and instructive, with an insider's perspective I hadn't seen anywhere before. I thought I had followed the Google story closely, but I realized how much I'd missed after reading—and enjoying—this book." —James Fallows, author of Postcards from Tomorrow Square
"Douglas Edwards is indeed lucky, sort of an accidental millionaire, a reluctant bystander in a sea of computer geniuses who changed the world. This is a rare look at what happened inside the building of the most important company of our time."—Seth Godin, author of
Linchpin
"This is the first Google book told from the inside out. The teller is an ex-employee who joined Google early and who treats readers to vivid inside stories of what life was like before Google became a verb. Douglas Edwards recounts Google's stumble and rise with verve and humor and a generosity of spirit. He kept me turning the pages of this engrossing tale." —Ken Auletta, author of
Googled: The End of the World as We Know It