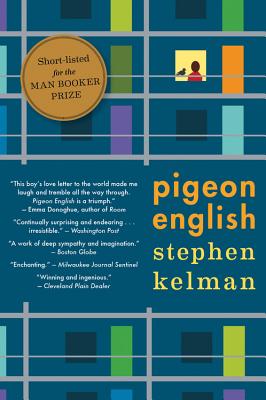 Pigeon English (Paperback)
Mariner Books, 9780547737423, 288pp.
Publication Date: June 19, 2012
Other Editions of This Title:
Hardcover (7/19/2011)
Paperback (2/25/2016)
Paperback (3/1/2011)
Paperback (1/1/2012)
Paperback (1/1/2012)
Prebound (6/19/2012)
* Individual store prices may vary.
Description
"Intelligent, observant." —The New Yorker

"If your patrons liked Roddy Doyle's Paddy Clarke Ha Ha Ha and if they rooted for Jamal Malik in Slumdog Millionaire, they will love Harri Opoku." —Library Journal, starred review

"In turns funny and tragic . . . Its message is universal." –Huffington Post

Advise yourself! Jump into Pigeon English and experience the jubilant, infectious voice of Harrison Opoku—a boy awed by the city, obsessed with gummy candy, a friend to everyone he meets. See why he is bo-styles. How being the fastest runner in Year 7 makes him dope-fine. And how crazy things get when Harri and his best friend launch their own investigation into the murder of a classmate and one of the Dell Farm Crew's hutious criminals feels them closing in on him. You'll want this book to last donkey hours, and you'll see why Harri is truly a "hero for our times."*

"Like Room . . . and The Curious Incident of the Dog in the Night-Time . . . Pigeon English is a novel for adults told in the remarkable voice of a child. In this fine company, Kelman's novel stands out." —Milwaukee Journal Sentinel

"Since Nancy Drew and the Hardy Boys, there have been certain rules observed when children play detective. Stephen Kelman throws them all out." —Christian Science Monitor
About the Author
Stephen Kelman grew up in the housing projects of Luton, England. He has worked as a careworker, a warehouse operative, in marketing, and in local government administration. Pigeon English was shortlisted for the Man Booker and  Desmond Elliot prizes and has been published in twenty countries.
Praise For Pigeon English…
"This this boy's love letter to the world made me laugh and tremble all the way through. Pigeon English is a triumph."
—Emma Donoghue, author of Room
"Continually surprising and endearing ... There's a sweetness here that's irresistible."
—Washington Post
"[A] work of deep sympathy and imagination."
—Boston Globe
"Enchanting."
—Milwaukee Journal Sentinel
"Winning [and] ingenious. . . Pigeon English packs a wallop."
—Cleveland Plain Dealer
"Intelligent, observant."
—The New Yorker
"Since Nancy Drew and the Hardy Boys, there have been certain rules observed when children play detective. Stephen Kelman throws them all out ... The mystery is secondary to the pleasures of listening to Harri."
—Christian Science Monitor
"In turns funny and tragic ... Its message is universal."
—Huffington Post
"If your patrons liked Roddy Doyle's Paddy Clarke Ha Ha Ha and if they rooted for Jamal Malik in Slumdog Millionaire, they will love Harri Opuku."
—Library Journal, starred review
"Pigeon English is a book to fall in love with: a funny book, a true book, a shattering book ... If you loved Mark Haddon's The Curious Incident of the Dog in the Night-Time or Emma Donoghue's Man Booker–shortlisted Room, you'll love this book too."
—The Times (UK)
"Adapting the narrative voice of Holden Caulfield from J. D. Salinger's The Catcher In The Rye ... Pigeon English convincingly evokes life on the edge ... The humour, the resilience, the sheer ebullience of its narrator—a hero for our times—should ensure the book becomes, deservedly, a classic."
—Mail on Sunday (UK)
"This exuberant novel sparkles with wonder and delight ... A vivid snapshot of contemporary urban childhood, it's Harri's voice, brilliantly captured and entirely convincing, which makes this book such a joy."
—Daily Mail (UK)
"Filled with energy, humour and compassion, Pigeon English is a gut-wrenchingly sad novel that makes you laugh out loud."
—Guardian (UK)
"Pigeon English is a fascinating look at a culture pushed to the margins by a nation's economic and empathic indifference; Harri is our immediately likable tour guide."
—Time Out Chicago
"Kelman's [debut] has a powerful story, a pacy plot and engaging characters. It paints a vivid portrait with honesty, sympathy and wit . . . It is horrifying, tender and funny . . . Pigeon English will be read by millions . . . Parents who do their children's homework are in for a treat."
—Telegraph (UK)
"Writing in a child's voice is always a high-wire act . . . Those who have pulled it off range from J.D. Salinger to Emma Donoghue. Kelman takes it one step further . . . The result is a tour de force . . . Funny and poignant, Pigeon English is fired with an uncontainable spirit, a rare distillate of boyhood optimism and adult wisdom."
—Maclean's (Canada)
"Kelman's command of Harrison's innocent all-seeing eyes makes for an engaging read."
—The Daily Beast
"Funny and poignant . . . What might be described as Diary of a Wimpy Kid meets Trainspotting . . . Undeniable."
—Toronto Star (Canada)
"Like Harper Lee's Scout Finch and Miriam Toews' Thebes Troutman, Stephen Kelman's Harri is an original who seems to breathe real oxygen. Watching Harri's exploits will make a reader want to laugh, marvel and cheer, but also cringe in fear . . . To be moved to care this deeply for a fictional character is a rare experience . . . The effect is one of profound transcendence."
—Winnipeg Free Press (Canada)
"Told with humour, despite the gritty subject matter and setting . . . Pigeon English charms its way into some hard places."
—Financial Times (UK)
"Harri's joie de vivre is infectious and his voice simultaneously charming and haunting—similar to the narrators of Emma Donoghue's Room or Mark Haddon's The Curious Incident of the Dog in the Night-Time. And much like those books, Pigeon English is a story for adults."
—BookPage
"Authentic and audacious . . . Harri is . . .tantalisingly sympathetic."
—Scotsman (UK)
"Imaginative, gut-wrenching and powerful . . . It's a window on a world many of us will never experience (thankfully), and it is beautifully and intelligently written."
—Edmonton Journal (Canada)
"A charming narrative voice energizes this lively first novel . . . festooned with vivid, funny locutions . . . There's just no resisting the kid . . . his embryonic wit, street smarts and survival instincts are about as hutious as it gets."
—Kirkus
"Hilarious, touching and terrifying by turns . . . In his evocation of the dreaming that brings many immigrants to cities all over the world and the danger and despair they face there, Kelman has crafted a book that soars."
—Chronicle Herald (Canada)
"Laced with humour, innocence and authenticity."
—The Independent (UK)
"Prepare to fall in love with Harri . . . [A] fresh, funny and ultimately moving story of 11-year-old Ghanaian immigrant to London."
—Shelf Awareness, starred review
"There is an irrepressible joy in Harri . . . Harri is a hero for all ages . . . He worms his way into your affections and leaves you breathless . . . Pigeon English is a mesmerizing tale of naïveté and discovery that has us rooting on the sidelines, hoping that Harri will triumph."
—The Rover (Canada)
"The strength of this debut novel lies in Harri's voice . . . Teens will appreciate Harri's winning narration, his child's-eye view of adult situations, and the rising tension when playing detective becomes a high-stakes matter."
—School Library Journal, Adult Books 4 Teens
"Pigeon English has already been hailed as a 'brilliant' and 'deeply moving' depiction of urban life . . . Far from being a political tract, however, Kelman's book uses Harri to convey a straightforward message about how good can triumph, whatever the odds."
—London Evening Standard (UK)
"Well-tuned . . . crisp and mirthful."
—Publishers Weekly
"Opoku's plight is both heart-warming and heartbreaking, as his actions unwittingly speed the inevitable cruel crash of manhood into his quietly contented world."
—The List (UK), 4 out of 5 stars
"A book both chilling and charming . . . A coming-of age tale that feels achingly accurate."
—Globe and Mail (Canada)
"A startingly assured piece of work [with] . . . a level of sensitivity and craftsmanship which few crime novelists can offer. What strikes the reader all the way through is the superb control with which Kelman writes . . . Kelman is a writer to watch."
 —Mystery Scene
"Pigeon English introduces readers to a Dickensian London circa multicultural now. A violent and riveting coming of age story, Stephen Kelman's debut novel also contains well-timed moments of comedy, affecting family drama, and just enough hopefulness."
—Vancouver Sun (Canada)
"A powerful and impressive novel . . . Kelman knows the world of boys—their language, their humour, their thoughts—and Harri's voice is dazzlingly authentic."
—Clare Morrall, author of the Booker-shortlisted Astonishing Splashes of Colour and The Man Who Disappeared
"Rich with lingo, energy, and occasional terror, Pigeon English is a stark and funny look at life in London's rough housing projects. After another hutious gangland chooking, eleven-year-old Harri is on the case, tracking the murderer for donkey hours while impressing Poppy with his bo-styles. A compelling anatomy of our inner cities."
—Tony D'Souza, author of Whiteman and Mule