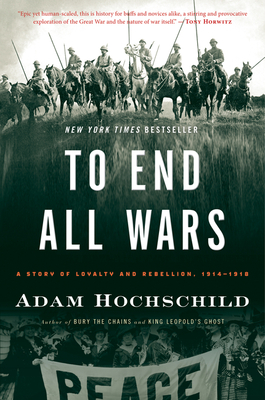 To End All Wars
A Story of Loyalty and Rebellion, 1914-1918
Paperback

* Individual store prices may vary.
Other Editions of This Title:
Digital Audiobook (5/3/2011)
MP3 CD (5/4/2011)
MP3 CD (5/4/2011)
Compact Disc (5/4/2011)
Compact Disc (5/4/2011)
Compact Disc (5/4/2011)
Compact Disc (5/4/2011)
Hardcover (5/1/2011)
Paperback (2/1/2012)
Hardcover (5/3/2011)
Description
"This is the kind of investigatory history Hochschild pulls off like no one else . . . Hochschild is a master at chronicling how prevailing cultural opinion is formed and, less frequently, how it's challenged." — Maureen Corrigan, NPR's Fresh Air

World War I was supposed to be the "war to end all wars." Over four long years, nations around the globe were sucked into the tempest, and millions of men died on the battlefields. To this day, the war stands as one of history's most senseless spasms of carnage, defying rational explanation.

To End All Wars focuses on the long-ignored moral drama of the war's critics, alongside its generals and heroes. Many of these dissenters were thrown in jail for their opposition to the war, from a future Nobel Prize winner to an editor behind bars who distributed a clandestine newspaper on toilet paper. These critics were sometimes intimately connected to their enemy hawks: one of Britain's most prominent women pacifist campaigners had a brother who was commander in chief on the Western Front. Two well-known sisters split so bitterly over the war that they ended up publishing newspapers that attacked each other.

As Adam Hochschild brings the Great War to life as never before, he forces us to confront the big questions: Why did so many nations get so swept up in the violence? Why couldn't cooler heads prevail? And can we ever avoid repeating history?

"Hochschild brings fresh drama to the story and explores it in provocative ways . . . Exemplary in all respects." — Jonathan Yardley, Washington Post

"Superb . . . Brilliantly written and reads like a novel . . . [Hochschild] gives us yet another absorbing chronicle of the redeeming power of protest." — Minneapolis Star Tribune


Praise For To End All Wars: A Story of Loyalty and Rebellion, 1914-1918…
"This is a book to make one feel deeply and painfully, and also to think hard."
—Christopher Hitchens, New York Times Book Review
"Hochschild brings fresh drama to the story, and explores it in provocative ways . . . Exemplary in all respects."
—Jonathan Yardley, Washington Post
"In this deeply moving history of the so-called Great War, those opposing its mindless folly receive equal billing with the politicians, generals, and propagandists obdurately insisting on its perpetuation. Implicit in Adam Hochschild's account is this chilling warning: once governments become captive of wars they purport to control, they turn next on their own people."
—Andrew J. Bacevich, author of Washington Rules: America's Path to Permanent War

"Adam Hochschild is the rare historian who fuses deep scholarship with novelistic flair. In his hands, World War I becomes a clash not only of empires and armies, but of individuals: king and Kaiser, warriors and pacifists, coal miners and aristocrats. Epic yet human-scaled, this is history for buffs and novices alike, a stirring and provocative exploration of the Great War and the nature of war itself".
—Tony Horwitz, author of A Voyage Long and Strange

"In prose as compelling as a masterful novel, Hochschild illuminates the lives of those who consigned millions to oblivion, and also introduces us to those who fiercely opposed the carnage—those who imagined, as we might, that the world could be otherwise. We emerge from this exemplary book with the knowledge that war is not inevitable, and those who work for its abolition inherit their dedication from sane men and women of great moral strength who recognized, as we must, that the future depended upon them.  Hochschild's accomplishment, as a writer and historian, is formidable and inspiring."
—Carolyn Forché, editor of Against Forgetting: 20th Century Poetry of Witness

"The lives of the author's many characters dovetail elegantly in this moving, accessible book...An ambitious narrative that presents a teeming worldview through intimate, human portraits."
—Kirkus Reviews

"An original, engrossing account that gives the war's opponents (largely English) prominent place . . . Hochschild paints equally vivid, painful portraits of now obscure civilians and soldiers who waged a bitter, often heroic, and, Hochschild admits, unsuccessful antiwar struggle."
—Publishers Weekly, starred review
Mariner Books, 9780547750316, 496pp.
Publication Date: March 6, 2012
About the Author
ADAM HOCHSCHILD is the author of ten books. King Leopold's Ghost was a finalist for the National Book Critics Circle Award, as was To End All Wars. His Bury the Chains was a finalist for the National Book Award and won the Los Angeles Times Book Prize and PEN USA Literary Award. He lives in Berkeley, California.
Coverage from NPR