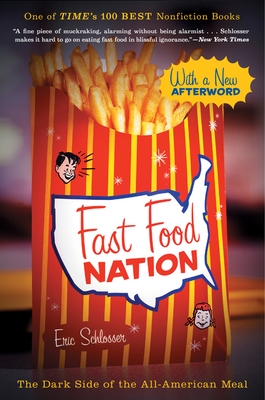 Fast Food Nation
The Dark Side of the All-American Meal
Paperback

* Individual store prices may vary.
Other Editions of This Title:
Paperback (10/1/2006)
Paperback (1/1/2010)
Paperback (11/1/2009)
(7/1/2005)
Paperback (7/5/2005)
Paperback (9/1/2007)
Compact Disc, Abridged, Abridged (5/4/2004)
Paperback (4/1/2002)
Hardcover (1/17/2001)
Description
New York Times Bestseller

"Schlosser has a flair for dazzling scene-setting and an arsenal of startling facts . . . Fast Food Nation points the way but, to resurrect an old fast food slogan, the choice is yours."—Los Angeles Times

In 2001, Fast Food Nation was published to critical acclaim and became an international bestseller. Eric Schlosser's exposé revealed how the fast food industry has altered the landscape of America, widened the gap between rich and poor, fueled an epidemic of obesity, and transformed food production throughout the world. The book changed the way millions of people think about what they eat and helped to launch today's food movement.

In a new afterword for this edition, Schlosser discusses the growing interest in local and organic food, the continued exploitation of poor workers by the food industry, and the need to ensure that every American has access to good, healthy, affordable food. Fast Food Nation is as relevant today as it was a decade ago. The book inspires readers to look beneath the surface of our food system, consider its impact on society and, most of all, think for themselves.

"As disturbing as it is irresistible . . . Exhaustively researched, frighteningly convincing . . . channeling the spirits of Upton Sinclair and Rachel Carson."—San Francisco Chronicle

"Schlosser shows how the fast food industry conquered both appetite and landscape."—The New Yorker

Eric Schlosser is a contributing editor for the Atlantic and the author of Fast Food Nation, Reefer Madness, and Chew on This (with Charles Wilson).
Praise For Fast Food Nation: The Dark Side of the All-American Meal…
"Schlosser is a serious and diligent reporter..." "[Fast Food Nation] is a fine piece of muckraking, alarming without beling alarmist."
—Rob Walker, New York Times Book Review 1/21/01

"Eric Schlosser's Fast Food Nation is a good old-fashioned muckraking expose in the tradition of The American Way of Death that's as disturbing as it is irresistible....Exhaustively researched, frighteningly convincing....channeling the spirits of Upton Sinclair and Rachel Carson....Schlosser's research is impressive--statistics, reportage, first-person accounts and interviews, mixing the personal with the global."
—San Francisco Chronicle

"An exemplary blend of polemic and journalism....A tale full of sound, fury, and popping grease."
—starred review Kirkus Reviews

"Schlosser is part essayist, part investigative journalist. His eye is sharp, his profiles perceptive, his prose thoughtful but spare; this is John McPhee behind the counter...."
—Washington Post

"...everywhere in his thorough, gimlet-eyed, superbly told story, Mr. Schlosser offers up visionary glints....For pure, old-fashioned, Upton Sinclair-style muckraking, the chapters on the meatpacking industry are masterful."
—Observer

"'Fast Food Nation' is investigative journalism of a very high order. And the fit between the author's reporting and his narrative style is just about perfect. The prose moves gracefully between vignette and exposition, assembling great quantities of data in small areas without bursting at the seams."
—Newsday

"Schlosser establishes a seminal argument for the true wrongs at the core of modern America."
—Publishers Weekly, Starred

"Reminiscent of Upton Sinclair's 'The Jungle'....."
—Boston Globe

"Schlosser has done huge amounts of intense, on-the-scene reporting, and he backs up his concerns very convincingly. He presents incredibly resonant images and statistics and observations the reader is unlikely to forget."
—San Jose Mercury News

"'Fast Food Nation' should be another wake-up call, a super-size serving of common sense...."
—Atlanta Journal Constitution

"Part cultural history, part investigative journalism and part polemic...intelligent and highly readable critique...."
—Time Out New York

"Fast Food Nation is the kind of book that you hope young people read because it demonstrates far better than any social studies class the need for government regulation, the unchecked power of multinational corporations and the importance of our everyday decisions."
—USA Today

"Fast Food Nation presents these sometimes startling discoveries in a manner that manages to be both careful and fast-paced. Schlosser is a talented storyteller, and his reportorial skills are considerable."
—Hartford Courant
Mariner Books, 9780547750330, 384pp.
Publication Date: March 13, 2012
About the Author
Eric Schlosser is a correspondent for The Atlantic. His work has also appeared in Rolling Stone, Vanity Fair, The Nation, and The New Yorker. He has received a National Magazine Award and a Sidney Hillman Foundation Award for reporting.