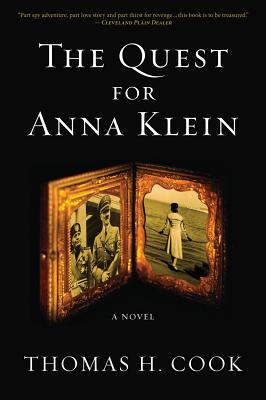 The Quest for Anna Klein (Paperback)
Mariner Books, 9780547750408, 352pp.
Publication Date: June 26, 2012
Other Editions of This Title:
Hardcover (6/21/2011)
Hardcover (9/1/2011)
Paperback (5/1/2012)
Paperback (9/1/2011)
* Individual store prices may vary.
Description
"Nobody tells a story better than Thomas H. Cook." —Michael Connelly

ON THE EVE OF WORLD WAR II, A HIGH STAKES INTERNATIONAL PLOT LEADS TO A DEADLY OBSESSION

Thomas Danforth has lived a fortunate life. The son of a wealthy importer, he wandered the globe in his youth, and now, in his twenties, he lives in New York City and runs the family business. It is 1939 and the world is on the brink of war, but his life is untroubled, his future assured. Then, on a snowy evening walk along Gramercy Park, a friend makes a fateful request—and involves Thomas in a dangerous idea that could change the fates of millions.

Danforth is to provide access to his secluded Connecticut mansion, where a mysterious woman will receive training in firearms and explosives. Thus begins an international plot carried out by the strange and alluring Anna Klein—a plot that will ensnare Thomas in more ways than one. When it all goes wrong and Anna disappears, his quest across a war torn world begins…


About the Author
THOMAS H. COOK was born in Fort Payne, Alabama. He has been nominated for Edgar Awards seven times in five different categories. He received the Best Novel Edgar, the Barry for Best Novel, and has been nominated for numerous other awards.
Praise For The Quest for Anna Klein…
"Edgar-nominee Cook (
The Last Talk with Lola Faye
, 2010, etc.) plays the spy game in this mystery adventure.Soon after 9/11, Paul Crane, a young think-tank researcher, interviews Thomas Danforth, an elderly New York City resident who believes he has information relevant to defending America against fanatics. Danforth wants the meeting because Crane wrote an article demanding a revenge-filled response to 9/11. Crane is skeptical, but Danforth unfolds a tale that begins in 1939, when he ran his father's import business. With the war imminent, Danforth was lured into an anti-Nazi conspiracy by his college friend, Robert Clayton. Other characters enter, including Ted Bannion, a disillusioned Spanish Civil War loyalist, and Anna Klein, a mysterious and beautiful young linguist. Captivated by Anna, Danforth accompanies her to Europe, where, with Bannion's help, she intends to organize Spanish Loyalists interned in France into an anti-Nazi force. That scheme fails. The three then decide Danforth will pose as an art dealer seeking Hitler's paintings. The plan is assassination, but the Gestapo intervenes. Bannion takes cyanide. Klein, by now the object of Danforth's passion, is captured. But because of his father's connections, Danforth is simply deported from Nazi Germany. The narrative regularly shifts from the interview to Danforth's adventures in the abattoir that was Europe in the 1940s, where he sought to learn Anna's fate. Clues hint Anna was a double or triple agent, and Danforth is eventually sent to the Soviet Union to determine her identity. There he's taken for a spy and sent to the gulag for 12 years. As the story unfolds, Danforth pushes and prods the callow Crane toward understanding the complexity of moral choices, the shadows that obscure love and loyalty and the perils of cause becoming obsession. Absent one minor point,
Cook's plot is as captivating as his characters. It's rendered in an often ear-pleasing literary style— "the sewer's most pernicious flotsam"— and laced with dozens of intriguing historical anecdotes. A knight errant, a labyrinth of deceit, a sure bestseller." —
Kirkus Reviews
"Thomas Cook's work is elegant, philosophical, and literary. This book is to be treasured, and is bound to earn him new readers. Grade A" —Cleveland Plain Dealer