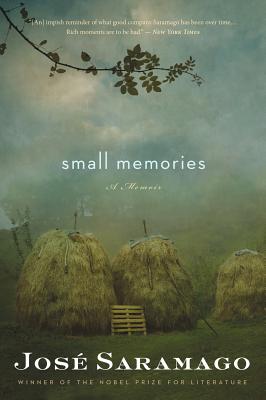 Small Memories (Paperback)
Mariner Books, 9780547752631, 176pp.
Publication Date: May 1, 2012
Other Editions of This Title:
Hardcover (5/11/2011)
* Individual store prices may vary.
Description
"Small Memories is a . . . nourishing last gift from a great writer."—Washington Post

Shifting back and forth between childhood and his teenage years, between Azinhaga and Lisbon, this is a mosaic of memories, a simply told, affecting look into the author's boyhood: the tragic death of his older brother at the age of four; his mother pawning the family's blankets every spring and buying them back in time for winter; his beloved grandparents bringing the weaker piglets into their bed on cold nights; and Saramago's early encounters with literature, from teaching himself to read by deciphering articles in the daily newspaper, to poring over an entertaining dialogue in a Portuguese-French conversation guide, not realizing that he was in fact reading a play by Molière.

Written with Saramago's characteristic wit and honesty, Small Memories traces the formation of an artist fascinated by words and stories from an early age who emerged, against all odds, as one of the world's most respected writers.

"Like a nostalgic progenitor bestowing his wealth of life experience upon a younger generation, Saramago digs deep into his peasant roots to sketch a rough outline of the little boy who would become one of the greatest Portuguese-language writers"—Portland Oregonian
About the Author
JOSÉ SARAMAGO (1922–2010) was the author of many novels, among them Blindness, All the Names, Baltasar and Blimunda, and The Year of the Death of Ricardo Reis. In 1998 he was awarded the Nobel Prize for Literature.
MARGARET JULL COSTA has established herself as the premier translator of Portuguese literature into English today.
Praise For Small Memories…
"The opening pages of this posthumously published memoir of early childhood by Saramago are rapturously enthralling..."
—Kirkus Reviews

"The memories are not only small and immediate, vignettes with a sense of being interjected rather than relayed, but told with the immediacy of a child's gaze, so very different from an adult's reflection...[An] homage to Saramago's family and homeland, but also...the endlessly renewable life of the mind." 
—The Independent (UK)"A great memoir...a tapestry of reminiscences stitched together haphazardly but with his usual irresistible charm... These are fragments of emotion and sensuous recollection that together poignantly conjure a distant childhood." 
—Metro.co.uk"A moving account of his childhood and adolescence" 
—The Spectator (UK)"I'll admit to having wept at the close of two of Saramago's novels, but his tale here is a gentler, more elegiac one. Small memories, perhaps, but a small masterpiece, too." 
—The Business Post (Ireland)"The Master of Lisbon shows the grandeur of small things recollected in this refulgent memoir." 
—Mail & Guardian (South Africa) "In Small Memories, Saramago examines the richness of his early experiences, taking pleasure in writing his past as the work of the man that he finally became." 
—World Literature Today