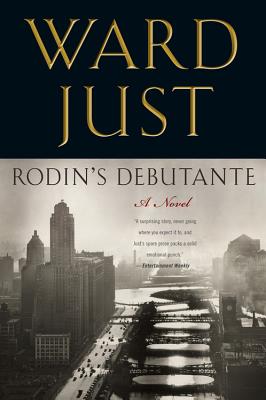 Rodin's Debutante
Paperback

* Individual store prices may vary.
Other Editions of This Title:
Hardcover (3/1/2011)
Description
"Ward Just is not merely America's best political novelist. He is America's greatest living novelist."—Susan Zakin, Lithub  

"An achievement . . . [that] fuses the romanticism of the early Kerouac and his mentor, Thomas Wolfe, with the wry humor of Richard Yates."—New York Times Book Review

Tommy Ogden, an outsized character holding court in his mansion outside robber-baron-era Chicago, declines to give his wife the money to commission a bust of herself from the French master Auguste Rodin, and instead announces his intention to endow a boys' school. His decision reverberates years later in the life of Lee Goodell, whose coming of age is at the heart of Ward Just's emotionally potent novel.

Lee's life in the small town of New Jesper, Illinois, is irrevocably changed by the rape of one of his high school classmates. His father, a local judge and a member of "the Committee" of civic leaders that runs the town, votes to suppress the crime in the name of protecting their community. His mother responds by forcing a move to Chicago's North Shore, where Lee enrolls in the private Ogden Hall School for Boys. Both the crime and the school come to profoundly shape Lee's knowledge of how the world works. Years later, Lee meets his victimized classmate. Their charged encounter is a confirmation of his understanding that how and what we remember lies at the heart of life.
Praise For Rodin's Debutante…
"Don't be misled by the title; this engaging coming-of-age tale has little to do with either Auguste Rodin or a debutante. Instead it begins early in the 20th century with Tommy Ogden, a rich, enigmatic Chicagoan who drunkenly decides one day to endow a boys' prep school. Flash forward a few decades to Lee Goodell, who attends Ogden Hall School for Boys and privately wants to become a sculptor. We follow his life, witnessing the two acts of violence that change him. Rodin's Debutante is a surprising story, never going where you expect it to, and Just's spare prose packs a solid emotional punch. A-" –Entertainment Weekly


"To his immense credit, Just doesn't turn this into a whodunit—in fact, we never learn who committed the crimes—but is instead focused on the intricate, almost Jamesian unfolding of the personal and private lives of his sharply delineated characters. An understated and delicate offering by a master."--Kirkus Reviews


"Just extends his grand inquiry into family, honor, and injustice in his beguiling and unnerving seventeenth novel. Like An Unfinished Season (2004), this bildungsroman is set on Just's home ground, northern Illinois, where Tommy Ogden, a man of enormous inherited wealth, flagrant taciturnity, and an excessive avidity for shooting animals, turns his massive prairie mansion into an ill-conceived boys' school at the onset of WWI. Lee Goodell, the son of a judge, grows up in a nearby small town, a bucolic place until the Great Depression delivers tramps and a horrific sex crime. Lee, dreamy, kind, and willful, attends Ogden's school, then headed by a Melville fanatic, where he plays football and swoons over a sculpted bust by Rodin. Determined to become a sculptor, Lee rents a basement studio on Chicago's South Side, where a knife attack jeopardizes his artistic vocation and involves him in the lives of his poor, struggling neighbors and the mission of a compassionate African American doctor. Stealthily meshing the gothic with the modern, the feral with the civilized, in this mordantly funny yet profoundly mysterious novel, Just asks what divides and what unites us. What should be kept secret? Which teaches us more, failure or success? And of what value is beauty? HIGH-DEMAND BACKSTORY: Award-winning Just attracts more readers with each uniquely compelling novel."--Booklist, STARRED review
—
Mariner Books, 9780547752655, 272pp.
Publication Date: April 17, 2012
About the Author
WARD JUST (1935-2019) was the author of nineteen novels, including Exiles in the Garden, Forgetfulness, the National Book Award finalist Echo House, A Dangerous Friend, winner of the Cooper Prize for fiction from the Society of American Historians, and An Unfinished Season, winner of the Chicago Tribune Heartland Award and a finalist for the 2005 Pulitzer Prize.