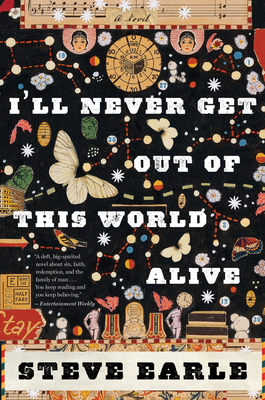 I'll Never Get Out of This World Alive (Paperback)
Mariner Books, 9780547754437, 256pp.
Publication Date: May 22, 2012
Other Editions of This Title:
Hardcover (5/12/2011)
Compact Disc (5/12/2011)
Pre-Recorded Audio Player (7/1/2011)
* Individual store prices may vary.
Description
"Steve Earle brings to his prose the same authenticity, poetic spirit, and cinematic energy he projects in his music. I'll Never Get Out of This World Alive is like a dream you can't shake, offering beauty and remorse, redemption in spades." —Patti Smith

"Shot through with humor and insight and . . . enough action and intriguing characters in it to keep readers turning pages." —Boston Globe

Doc Ebersole lives with the ghost of Hank Williams. Literally.

In 1963, ten years after he may have given Hank the morphine shot that killed him, Doc has lost his license. Living in the red-light district of San Antonio, he performs abortions and patches up the odd knife wound to feed his addiction. But when Graciela, a young Mexican immigrant, appears in the neighborhood in search of Doc's services, miraculous things begin to happen. Everyone she meets is transformed for the better, except, maybe, for Hank's angry ghost—who isn't at all pleased to see Doc doing well.


About the Author
STEVE EARLE is a singer-songwriter, actor, activist, and the author of a Los Angeles Times Book of the Year, the story collection Doghouse Roses. He has released more than a dozen critically acclaimed albums, including the Grammy winners The Revolution Starts Now, Washington Square Serenade, and Townes. He has appeared on film and television, with celebrated roles in The Wire and Treme. His album entitled I'll Never Get Out of This World Alive was produced by T Bone Burnett. He often tours with his wife, singer-songwriter Allison Moorer.
Praise For I'll Never Get Out of This World Alive…
"A deft, big-spirited novel about sin, faith, redemption, and the family of man ... You keep reading and you keep believing."
—Entertainment Weekly
"Steve Earle brings to his prose the same authenticity, poetic spirit, and cinematic energy he projects in his music. I'll Never Get Out of This World Alive is like a dream you can't shake, offering beauty and remorse, redemption in spades."
—Patti Smith
"Shot through with humor and insight and ... enough action and intriguing characters in it to keep readers turning pages."
—Boston Globe
"Earle's writing never lacks heart."
—New York Times Book Review
"As he does in his songs, Earle finds the tenuous points of emotional connection between characters who are living not only on the edges of their own ability to cope, but often on the very margins of society itself."
—Rolling Stone
"This subtle and dramatic book is the work of a brilliant songwriter who has moved from song to orchestral ballad with astonishing ease."
—Michael Ondaatje
"Earle has delivered plenty of potent messages during his turbulent career, but he has never pricked the public's conscience in as many different ways ... The renegade troubadour-turned-renaissance man ... challenge[s] audiences to think about mortality, redemption, addiction, artistic commitment and other soul-searing questions."
—USA Today
"Raw, honest and unafraid, this novel veers in and out of the lives of its many memorable characters with flawless pitch. Steve Earle has given us dozens of remarkable songs, he has given us a dazzling collection of short stories, and now here's his first novel, a doozy from a great American storyteller."
—Tom Franklin
"Earle is pointing out that in fiction reality can merge with myth in the service of a larger truth . . . [I'll Never Get out of This World Alive] aspires to a certain gritty transcendence . . . [and] comes with a mythic underpinning, a touch of the mysteries."
—Los Angeles Times
"Iconic country-rocker Earle's imaginative first novel follows the troubled life of Doc Ebersole, who may have supplied the shot of morphine that killed country legend Hank Williams . . . Earle draws on the rough-and-tumble tenderness in his music to create a witty, heartfelt story of hope, forgiveness, and redemption."
—Booklist
"This is an impressive debut novel. The characters are unforgettable, and the plot moves like a fast train. A fantastic mixture of hard reality and dark imagination."
—Thomas Cobb
"Earle has created a potent blend of realism and mysticism in this compelling, morally complex story of troubled souls striving for a last chance at redemption. Musician, actor, and now novelist—is there another artist in America with such wide-ranging talent?"
—Ron Rash
"In this spruce debut novel . . . hard-core troubadour Earle ponders miracles, morphine, and mortality . . .With its Charles Portis vibe and the author's immense cred as a musician and actor, this should have no problem finding the wide audience it deserves."
—Publishers Weekly
"This richly imagined novel not only takes its title from a Hank Williams classic, it audaciously employs Hank's ghost as a combination of morphine demon and guardian angel . . . Already well-respected for both his music and his acting, Earle can now add novelist to an impressive résumé."
—Kirkus, starred review
"What a delight to read this novel and find so many elements I've admired in Steve Earle's songwriting for nearly twenty-five years. It is a rich, raw mix of American myth and hard social reality, of faith and doubt, always firmly rooted in a strong sense of character."
—Charles Frazier
"Steve Earle writes like a shimmering neon angel."
—Kinky Friedman
"Earle's first novel provides a haunting and haunted bookend to Irving's Cider House Rules. The ghost of Hank Williams walks through this abortionist's tale that has much to do with grace and aging and death—and the power of the feminine. Gritty and transcendent, Earle has successfully created his own potion of Texas, twang, and dope-tinged magic-realism."
—Alice Randall
"Everyone knows that Steve Earle ranks among the very best, and most authentic, songwriters in the history of America. With his first novel, Earle has established himself as one of our most knowledgeable and sympathetic writers period. He is a natural-born storyteller. If Jesus were to return tomorrow to 21st-century America, and do some street preaching on the gritty South Presa Strip of San Antonio, he'd love Earle's magnificently human, big-hearted drifters. Only the man who wrote "Copperhead Road" could have authored I'll Never Get Out of This World Alive."
—Howard Frank Mosher
"A poignant story of madness and redemption woven into a tapestry of real world desperation and old world magic. It's colorful, cool, and downright gripping."
—Robert Earl Keen
"The best book I've read since The Road. With the lure of Hank Williams' ghost, a touch of the Kennedy assassination, a little Castaneda and a few miracles, he takes on the underworld and organized religion, and reality as it's generally supposed, with great certainty and research and style."
—R. B. Morris
"Steve Earle astonishes us yet again. Country Rock's outlaw legend brings the ghost of Hank Williams to life in a gloriously gritty first novel that soars like a song. And echoes in the heart."
—Terry Bisson
"I'll Never Get out of This World Alive reads like the best of Steve Earle's story songs, which means real good. The tale of a more charmingly haunted, trying-to-do-the-right-thing dope fiend you won't easily find."
—Mark Jacobson
"Outsider artists like Steve Earle bring a breath of fresh air to the literary world. I just wish they'd come around more often. Richly imagined and handily crafted—a mighty fine piece of storytelling."
—Madison Smartt Bell
"Perhaps only another great country singer would have the courage to cast [country singer Hank] Williams in the guise of a malignant hillbilly harpy, whose presence inevitably heralds imminent doom . . . And though the novel comes no closer to establishing the facts of Hank Williams's death, it certainly reveals a good deal of the truth behind it."
—Guardian (UK)