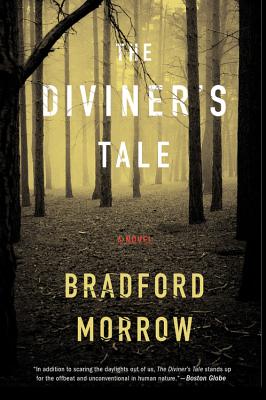 The Diviner's Tale
Paperback

* Individual store prices may vary.
Other Editions of This Title:
Digital Audiobook (1/19/2011)
Hardcover (1/20/2011)
Paperback (1/1/2012)
Compact Disc (1/20/2011)
MP3 CD (1/20/2011)
Compact Disc (1/20/2011)
Description
"[A] splendidly written mystery . . . a compelling story. Grade: A" —Cleveland Plain Dealer

"Subtle, distinctive and well-wrought." —Washington Post

Hired by a developer to dowse a lonely forested valley in upstate New York, Cassandra Brooks comes upon a girl hanged from a tree. When she returns with authorities, however, the body has vanished, calling into question her sanity—at least until a dazed, mute girl emerges from the woods, alive and eerily reminiscent of Cassandra's vision of the hanged girl. Increasingly bizarre divinations ensue, leading Cassandra back to a past she thought long behind her, locking her in a mortal chess match with a killer who has returned from the past to haunt her once more.

"Sublime . . . creates a seamless breathing breathtaking unity of the literary and the suspense novel, detonating the very notion of genre. Riveting, insightful, sentence-by-sentence charged with feeling, it bears us, helpless, with it on its downward journey to illumination." —Peter Straub


Praise For The Diviner's Tale…
"A subtler take on the high-tension ghost story."
—Bloomberg

"The Diviner's Tale is vividly imagined and carefully plotted...an ambitious book, an attempt to explore the heart's mysteries by means of stories and images of the rolling profusion of language."
—New York Times Book Review

"Powerful."
—Entertainment Weekly

"Morrow quietly drops clues as he guides you deeper into the mystery of the dead girl -- and into Cass's own mind."
—New York Times

"With The Diviner's Tale, Morrow demonstrates...that one need not sacrifice literary chops for more commercial leanings when the two are easily and readily combined."
—Sarah Weinman for The Los Angeles Times

A "solid gothic-infused tale of family secrets. ... Morrow (Ariel's Crossing) beautifully evokes Cassandra's inner turmoil..."
—Publishers Weekly

"A committed dowser but reluctant psychic is the winsome protagonist of this sixth novel from Morrow (Ariel's Crossing, 2002, etc.), which occupies a middle ground between domestic realism and Gothic suspense...Morrow does a fine job portraying a family whose love transcends sharply conflicting worldviews..."
—Kirkus Reviews

"In his sublime new novel The Diviner's Tale, Bradford Morrow accomplishes the deep, subtle miracle I have been waiting and waiting for someone to effect—he gives us the first novel-length work of fiction that actually does create a seamless breathing breathtaking unity of the literary and the suspense novel. This novel detonates the very notion of genre. And it works because it is riveting, insightful, sentence by sentence charged with feeling, as it bears us helpless with it on its downward journey to illumination."
—Peter Straub, author of Ghost Story and A Dark Matter

"Bradford Morrow, like the diviner-heroine of The Diviner's Tale, is a mesmerizing storyteller who casts an irresistible spell. He has constructed an ingeniously plotted mystery that is at the same time a love story—luminous and magical, fraught with suspense, beautifully and subtly rendered—a feat of prose divination."
—Joyce Carol Oates, author of A Fair Maiden

"Bradford Morrow is a force of nature. I have already publicly used the word 'masterpiece' about one of his books, Trinity Fields. It is a measure of this writer that I must invoke the word again, and about a novel that not only contains pitch-perfect, surpassingly beautiful line-to-line writing but that finds in fictional genre forms both narrative excitement and profound human insight fully as successfully as Dostoevsky did with murder mysteries and Melville did with sea adventures. The Diviner's Tale will not only delight, it will endure."
—Robert Olen Butler, author of A Good Scent from a Strange Mountain and Hell

"An astonishing dark gem of a novel, The Diviner's Tale is a gorgeously written, deeply unsettling thriller that kept me reading long past my bedtime for three nights in a row. I don't regret a moment of it, and neither will you; I loved this book."
—Elizabeth Hand, author of Generation Loss and Ilyria

"Superb. The only thing I did for two straight days was read this book—it really is that riveting. It reminded me of the greatest Hitchcock films that were somehow alchemically able to combine suspense, wonder, and romance all in one seamless story that kept you guessing and gasping right up until the end. A long time fan of Morrow's work, I can honestly say this is the best he's ever done."
—Jonathan Carroll, author of The Wooden Sea and The Ghost in Love

"Bradford Morrow's The Diviner's Tale packs a mighty emotional wallop. This haunting portrayal of a woman possessed by irresistible visions which draw her through mystery and terror to cataclysmic self-discovery is both chilling and impossible to put down. Morrow is at the top of his form: bold, original, and mesmerizing. Truly a stunning achievement."
—Valerie Martin, author of The Confessions of Edward Day

"Bradford Morrow's beautifully written and tautly paced novel brings the old and all but forgotten gift of divination into the modern world. With the aptly named but thoroughly contemporary Cassandra as the book's flawlessly rendered voice, Morrow has created a woman both heroic in what she seeks and human in what she finds. The Diviner's Tale is about past crimes and future consequences, a tale whose subtle and mysterious confluences are as elusive as water underground."
—Thomas H. Cook, author of The Last Talk with Lola Faye

"The Diviner's Tale is Morrow's most ambitious novel yet. He deftly wicks the literary and the paranormal into a single strand, making us wonder why we ever thought of the two as separate, and then uses this thread to weave a perfectly articulated mystery. The result is a sly masterpiece by a truly marvelous stylist that will cause you to question what you thought you knew about both genre and literature. Triply satisfying, The Diviner's Tale is a virtuoso performance."
—Brian Evenson, author of The Open Curtain and Fugue State

"The Diviner's Tale is chilling and unexpectedly powerful... Morrow writes extraordinay literary thrillers, giving us beautiful language while telling an old-fashioned, nail-biting story."
—Bookpage
Mariner Books, 9780547758657, 320pp.
Publication Date: March 27, 2012
About the Author
BRADFORD MORROW is the author of numerous acclaimed works of fiction and poetry, including Ariel's Crossing and Giovanni's Gift. He is also the founder of the literary magazine Conjunctions, which he has edited since 1981. He received a Guggenheim fellowship in 2007 and is a professor of literature at Bard College.