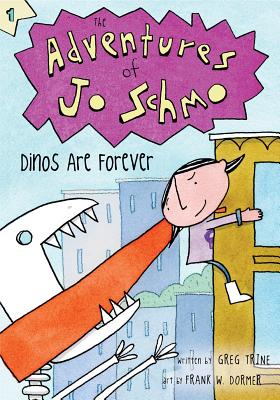 Dinos Are Forever (Adventures of Jo Schmo #1) (Hardcover)
Houghton Mifflin, 9780547763415, 112pp.
Publication Date: July 3, 2012
* Individual store prices may vary.
Description
"I am retiring from my life as a superhero and have enclosed my cape. Use it well. Sincerely, Uncle George."
Jo Schmo comes from a long line of crime fighters, but she's just a normal fourth grade girl into boys and skateboards--until her uncle's cape arrives on her San Francisco doorstep. Time to join the family business Gramps shows Jo the tricks of the trade, and her dog, Raymond, becomes her slobbery sidekick. Just in time, too. Can Jo stop Dr. Dastardly and his deadly gang of dead dinos? Stay tuned for more adventures of Jo Schmo, complete with hilarious black-and-white illustrations.
Praise For Dinos Are Forever (Adventures of Jo Schmo #1)…
"Lighter-than-air superhero fun."--Kirkus
"Trine's offbeat brand of humor and Dormer's angular, childlike illustrations . . . hit the mark."—
Publishers Weekly
"There's plenty of goofy middle-grade appeal here for both boys and girls; hand this to kids suffering from Phineas and Ferb withdrawal now that school is back in session."—
Bulletin