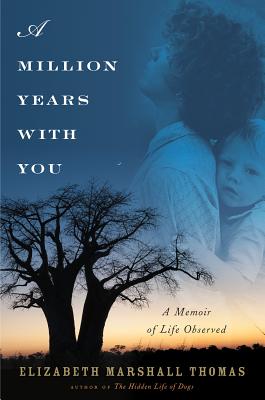 A Million Years with You (Hardcover)
A Memoir of Life Observed
Houghton Mifflin Harcourt, 9780547763958, 304pp.
Publication Date: June 11, 2013
* Individual store prices may vary.
Description
One of our greatest literary naturalists turns her famed observational eye on herself in this captivating memoir.

How is it that an untrained, self-taught observer and writer could see things that professional anthropologists often missed? How is that a pioneering woman, working in male-dominated fields, without sponsors or credentials, could accomplish more than so many more celebrated and professionally educated men could manage? How can we all unlock the wisdom of the world simply by paying close attention?

With their intelligence and acute insight into other cultures and species, Elizabeth Marshall Thomas's many books have won a wide and loving audience. In A Million Years with You, this legendary author shares stories from her life, showing how a formative experience in South West Africa (now Namibia) in the 1950s taught her how to pay attention to the ancient wisdom of animals and humankind.

As a young woman, Marshall Thomas joined her family on an anthropological expedition to the Kalahari Desert, where she conducted fieldwork among the Ju/wa Bushmen, later publishing her findings as The Harmless People. After college, a wedding, and the birth of two children, she returned to Uganda shortly before Idi Amin's bloody coup. Her skills as an observer and a writer would be put to the test on many other occasions working with dogs, cats, cougars, deer—and with more personal struggles. A Million Years with You is a powerful memoir from a pioneering woman, an icon of American letters.

About the Author
One of the most widely read American anthropologists, ELIZABETH MARSHALL THOMAS has observed dogs, cats, and elephants during her half-century-long career. Her many books include The Social Lives of Dogs, The Tribe of Tiger, and The Hidden Life of Deer.  She lives in Peterborough, New Hampshire.
Praise For A Million Years with You: A Memoir of Life Observed…
"Thoughtful" -- Publishers Weekly
"Elizabeth Marshall Thomas's affirming, finely-observed memoir recounts a life in the process of being fully and unapologetically lived; a gift from someone with an endlessly curious mind and more than eight decades on the planet. But perhaps the greatest gift of A Million Years with You is Marshall Thomas's signal talent: it leaves the reader feeling far less alone in the world, and much more deeply connected to it." — Alexandra Fuller, author of Cocktail Hour under the Tree of Forgetfulness
"It would be a gross understatement to say that A Million Years with You is a stunning book. Thomas is confronted by Idi Amin in Uganda; she digs roots with women gatherers in the Kalahari. In Ibadan, Nigeria, she witnesses tribal violence, religious sacrifice, and resistance to western medicine. She is a keen observer of lions, hyenas, and wild wolves. All this is interwoven with her own personal history to form a memoir of extraordinary power." — Maxine Kumin, author of Where I Live, and former U.S. Poet Laureate
"Elizabeth Marshall Thomas writes with all her sense of a lifelong love affair with our planet and its astonishing life. She is a meticulous observer of human diversity and the hidden ways of animals, responding with empathy and reminding us to look with wonder." — Mary Catherine Bateson, author of Composing a Further Life: The Age of Active Wisdom
"Fortunately for readers, her keen observation, attentive and inquisitive nature, and thoughtful, unvarnished writing grace numerous books devoted to sharing what she has seen. This time she turns to a fascinating subject: herself." — Concord Monitor
or
Not Currently Available for Direct Purchase