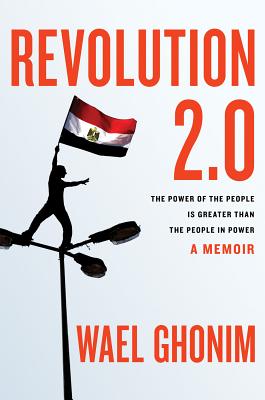 Revolution 2.0
The Power of the People Is Greater Than the People in Power: A Memoir
Hardcover

* Individual store prices may vary.
Other Editions of This Title:
Paperback (1/15/2013)
MP3 CD (1/17/2012)
Compact Disc (1/20/2012)
Compact Disc (1/17/2012)
Hardcover (1/1/2012)
Paperback (1/1/2012)
Audio Cassette (1/1/2012)
Description
The revolutions that swept the Middle East in 2011 surprised and captivated the world. Brutal regimes that had been in power for decades were overturned by an irrepressible mass of freedom seekers. Now, one of the figures who emerged during the Egyptian uprising tells the riveting inside story of what happened and shares the keys to unleashing the power of crowds.

Wael Ghonim was a little-known, thirty-year-old Google executive in the summer of 2010 when he anonymously launched a Facebook page to protest the death of one Egyptian man at the hands of security forces. The page's following expanded quickly and moved from online protests to a nonconfrontational movement.

The youth of Egypt made history: they used social media to schedule a revolution. The call went out to more than a million Egyptians online, and on January 25, 2011, Cairo's Tahrir Square resounded with calls for change. Yet just as the revolution began in earnest, Ghonim was captured and held for twelve days of brutal interrogation. After he was released, he gave a tearful speech on national television, and the protests grew more intense. Four days later, the president of Egypt was gone.
    
The lessons Ghonim draws will inspire each of us. He saw the road to Tahrir Square built not by any one person, but by the people. In Revolution 2.0, we can all be heroes.

Praise For Revolution 2.0: The Power of the People Is Greater Than the People in Power: A Memoir…
A "
fast-paced and engrossing
new memoir of political awakening...Ghonim's memoir is a
welcome and cleareyed
addition to a growing list of volumes that have aimed (but often failed) to meaningfully analyze social media's impact. It's a book about social media for people who don't think they care about social media. It will also
serve as a touchstone
for future testimonials about a strengthening borderless digital movement that is set to continually disrupt powerful institutions, be they corporate enterprises or political regimes…
Ghonim's writing voice is spare and measured, and marked by the same earnest humility he has displayed in media appearances
…
His individual story resonates on two levels: it epitomizes the coming-of-age of a young Middle Eastern generation that has grown up in the digital era, as well as the transformation of an apolitical man from comfortable executive to prominent activist.
"
-- The New York Times Book Review
"A remarkable personal testament that will be cited by future historians of both Facebook and the Arab Spring." --
Kirkus
"Ghonim...brings his broad international perspective and knowledge of technology to this fascinating look at the new face of revolution." --
Booklist"Revolution 2.0
...is likely to be required reading for web geeks, media experts, political scientists, advertising executives, activists, anarchists, confidence men, secret policemen, dictators and corporate strategists." -- The Telegraph (UK)"An articulate account of the author's middle-class upbringing under a draconian regime, and
a gripping chronicle of how a fear-frozen society finally topples its oppressors with the help of social media
...That the translation reads so smoothly in English is a linguistic feat...It helps that Ghonim is a methodical thinker whose plain and logical approach evokes a thoughtful rather than radical response. He deftly renders the details of his conversations with interrogators and willingly describes personal scenes...A final suspenseful chronicle of how government officials attempted to brainwash and dupe him after his release from prison will be eye-opening for anyone who wonders about the distorted mind-set of Egypt's leaders....It's not surprising that Ghonim's commitment to the cause affected his relationship with his wife and children; it reminds one of our own historical revolutionaries - John and Abigail Adams come to mind - who required a certain obsessive determination that may seem irresponsible to those who live in a democracy." --
The San Francisco Chronicle
"Ghonim doesn't overreach in this deeply personal account. His words ring with an authentic tone...Ghonim avoids sweeping generalizations during those heady and tumultuous days." --
The Los Angeles Times
"A fascinating book...There is an energy in the book and in Ghonim's words that makes one feel it is much too soon to assume the revolution is over, or to underestimate what the rebels achieved." --
The Philadelphia Inquirer
"Deserve[s] to become part of the canon of classic prison literature" --
The Washington Post"Revolution 2.0
excels in chronicling the roiling tension in the months before the uprising, the careful organization required and the momentum it unleashed. Ghonim … present[s] a manifesto on the capacity of social media to transform a society…Its approach — inherently plural, modern and pragmatic — augurs well for a society on the brink of an uncertain future." --
NPR.org
"There's no doubting that his tell-it-like-it-is memoir will be studied by historians for generations to come." --
Bloomberg
Houghton Mifflin Harcourt, 9780547773988, 320pp.
Publication Date: January 17, 2012
About the Author
Wael Ghonim was born in Cairo and grew up in Egypt and Saudi Arabia, earning a degree from Cairo University in 2004 and an MBA from the American University in Cairo in 2007.  He joined Google in 2008, rising to become Head of Marketing for Google Middle East and North Africa. He is currently a non-resident senior fellow at Harvard's Ash Center for Democratic Governance and Innovation.
Coverage from NPR
or
Not Currently Available for Direct Purchase