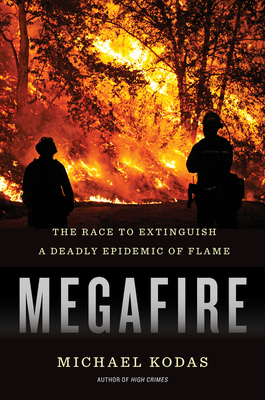 Megafire
The Race to Extinguish a Deadly Epidemic of Flame
Hardcover

* Individual store prices may vary.
Description
As forest fires continue to ravage communities, this bestselling author and firefighter explores what causes them, and captures the danger and heroism of those who fight them

In Megafire, a world-renowned journalist and forest fire expert travels to the most dangerous and remote wildernesses, as well as to the backyards of people faced with these environmental disasters, to look at the heart of this phenomenon and witness firsthand the heroic efforts of the firefighters and scientists racing against time to stop it—or at least to tame these deadly flames.

From Colorado to California, China to Canada, the narrative hopscotches the globe and takes readers to the frontlines of the battle both on the ground and in the air, and in the laboratories, universities, and federal agencies where this issue rages on. Through this prism of perspectives, Kodas zeroes in on a handful of the most terrifying and tumultuous of these environmental disasters in recent years—the Yarnell Hill Fire in Arizona that took the lives of nineteen elite "hotshot" firefighters, the Waldo Canyon Fire that overwhelmed the city of Colorado Springs—and more in a page-turning narrative that puts a face on the brave people at the heart of this issue. Megafire describes the profound impact of these fires around the earth and will change the way we think about the environment and the essential precariousness of our world.
Praise For Megafire: The Race to Extinguish a Deadly Epidemic of Flame…
"Bracing . . .  Captur[es] the Sisyphean struggles of the men and women who battle blazes for a living . . . Kodas has a knack for fluid prose and an eye for ghoulish detail . . . Engaging." —The New York Times Book Review   "This is one scary book—it's hard to imagine a more thorough accounting of the ways we're managing to turn our planet into an inferno." —Bill McKibben, author of Eaarth: Making  a Life on a Tough New Planet   "When it comes to the complicated dynamics of wildfire, few writers can match the breadth and depth of knowledge of Michael Kodas. Fewer still can measure up to his muscular prose. Kodas trains a keen eye and masterful turn of phrase on the politics of wildfire—a problem bound to visit more death and destruction on communities across the American West while politicians duck the painful decisions to put their constituents and wild lands ahead of votes."  —Scott Wallace, author of Unconquered: In Search of the Amazon's Last Uncontacted Tribes   "There's almost nothing 'natural' about the megafires that in recent years have killed dozens of people and cost billions of dollars in the U.S. alone. I don't know any writer better equipped to explain what's gone wrong than Michael Kodas, who shines a light both on the astonishing bravery of the hotshots on the front lines and on the waste and ineptitude of the politicians and bureaucrats who too often fail them, sometimes with fatal consequences. His recounting of the deadly wildfires at Yarnell Hill and Waldo Canyon will tingle your spine and boil your blood."  —Dan Fagin, author of the Pulitzer Prize-winning Toms River: A Story of Science and Salvation "Megafire is not simply a book about the apocalypse of wild fires spreading across the globe. It is also an exhaustively researched treatise on the folly of man. Michael Kodas has adroitly addressed such issues as overbuilding in wild fire zones, mismanagement of forests and climate change which, if not reversed, will continue to bedevil the planet." —Rinker Buck, NYT bestselling author of The Oregon Trail: A New American Journey "As natural disasters balloon in size around the globe, it becomes increasingly harder to view climate change as an abstraction. Wild fires, in particular, are growing bigger, burning hotter, and racing faster than previous experts ever imagined possible. Michael Kodas documents exactly how a mix of human apathy, ignorance, and greed kindled this problem, then accelerated it with good, but misguided, intentions. Megafire is an impeccably researched journey through a terrifying phenomenon."  —Bronwen Dickey, contributing editor of the Oxford American and author of Pit Bull: The Battle over an American Icon "Around the world, writes award-winning journalist and photographer Kodas, 'megafires' are billowing each fire season, thanks to a perfect storm of related causes . . . Kodas brings new insight to the[se] events. Worthy of shelving alongside the best of modern firefighting books—and of the broadest audience." —Kirkus Reviews, starred review "This is a story that anyone who lives in a fire-prone state or who is thinking of moving to one should read. A much-needed book on a highly pertinent topic." —Library Journal, starred review "A surp —
Mariner Books, 9780547792088, 384pp.
Publication Date: August 22, 2017
About the Author
MICHAEL KODAS is the deputy director of the Center for Environmental Journalism at the University of Colorado, Boulder, an award-winning photojournalist and reporter, and author of the best-selling book High Crimes: The Fate of Everest in an Age of Greed. He lives in Boulder, Colorado.
or
Not Currently Available for Direct Purchase