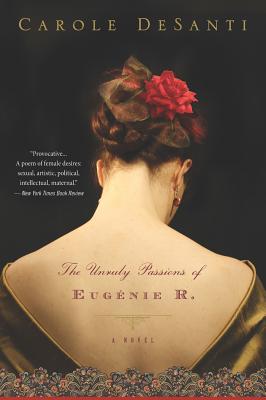 The Unruly Passions of Eugénie R. (Paperback)
Mariner Books, 9780547840215, 432pp.
Publication Date: March 26, 2013
* Individual store prices may vary.
Description
A New York Times Book Review Editors' Choice

A young woman follows the man she loves to Paris and finds, amid the wildness of Second Empire luxury and treachery, many loves to win and lose. She must also find a way to a life she can truly call her own.

"An arresting tale of what it meant to survive as a woman . . . [and] an unflinching portrait of love and loss against a landscape of Parisian decadence."—Deborah Harkness

"Epic times make for epic books . . . Wonderful, suspenseful reading."—Karen Joy Fowler

"Eugénie R. is every girl in a daguerreotype looking over her shoulder, every woman with a baby hurrying away from you down a gas-lit street, and then too, she is the first of her kind, a woman who stands at her own barricades and fights a France determined to render her silent. I lost myself whole-heartedly in her story, and would have followed her down any narrow alley, into any candlelit room, just to know what happened, to stay back there and to delay coming home."—Sarah Blake

"Fiction in the grand tradition of Dickens and Tolstoy."—Howard Frank Mosher

"Lord! How beautifully this is written. How rare that is to discover."—Dorothy Allison

About the Author
Carole DeSanti is a longtime book editor and champion of new voices in fiction. Her work has appeared in The New York Times and the Women's Review of Books. Visit www.caroledesanti.net.
Praise For The Unruly Passions of Eugénie R.…
"I lost myself whole-heartedly in [Eugénie's] story, and would have followed her down any narrow alley, into any candlelit room, just to know what happened, to stay back there and to delay coming home." —Sarah Blake, author of The Postmistress
"A sweeping, fascinating epic full of drama and beauty."—Publishers Weekly
"The Unruly Passions of Eugénie R. is as much a personal meditation on women's emotional and professional tradeoffs as it is a sweeping saga of the decadent Paris that spawned Madame Bovary.… Don't read this fiercely intelligent novel if you simply want a good love story dressed up in period clothes. Read it for the complex sexual politics, lush language, and mirror onto our own excessive, heedless times."—Sheri Holman, author of The Dress Lodger
"The Unruly Passions of Eugénie R. is an arresting tale of what it meant to survive as a woman in 19th-century France. With spare, powerful prose Carole DeSanti's debut novel paints an unflinching portrait of love and loss against a landscape of Parisian decadence." — Deborah Harkness, author of A Discovery of Witches
"Epic times make for epic books. The Unruly Passions of Eugénie R. is both sweeping in scope and painstaking in detail. Eugénie R.'s story, from naive goosegirl to resilient survivor, makes for wonderful, suspenseful reading, but tumultuous Paris is equally compelling, laid out here by DeSanti in all her grisly or gorgeous glory." — Karen Joy Fowler, author of The Jane Austen Book Club
"Against a carefully recreated landscape of France and the City of Lights during the 1860s, with the Prussian army heading for Paris, DeSanti brings a 21st-century sensitivity for the plight and passions of women in her rendering of Eugénie and the women and men she comes to travel (and drink) among." —Mireille Guiliano, internationally best-selling author of French Women Don't Get Fat
"Reading The Unruly Passions of Eugénie R. is like entering a lush dream filled with beauty and brutality. This astonishing debut is a panoramic story of war and peace, love and betrayal, innocence and hard-won wisdom, told through the eyes of a compelling woman who kept me at her side through it all." —Lauren Belfer, author of A Fierce Radiance
"So richly and sensuously drawn one can almost feel it . . . Perhaps if [Eugénie's] contemporary, Emma Bovary, had possessed the ingenuity, wit, and tenacity of Eugénie R., Madame B. wouldn't have had to take that arsenic." — Valerie Martin, author of The Confessions of Edward Day
"Lord! This is a great piece of work. How beautifully this is written. How rare that is to discover on the page." — Dorothy Allison, author of Bastard Out Of Carolina
"A magnificent novel in scope and achievement, powerfully written yet delicately evocative." — Fay Weldon