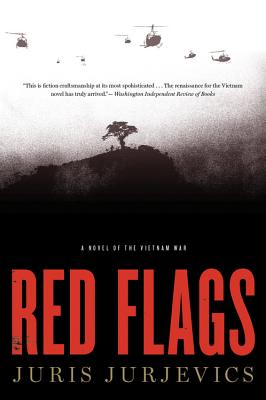 Red Flags (Paperback)
Mariner Books, 9780547840239, 294pp.
Publication Date: September 1, 2012
Description
Army cop Erik Rider prefers to fight his war in the saloons and streets of Saigon. When he is sent to disrupt a Vietcong opium operation deep in the jungle, he could not be less interested. But when Rider lands in Cheo Reo, things get complicated. The American outpost is home to battle-hardened soldiers, intelligence operatives, and profiteers of all stripes. Meanwhile, Vietcong battalions are massing in the hills, and sixty thousand Montagnard tribespeople are advancing with the goal of reclaiming their mountain homeland.With a bounty on his head, Rider must hunt for the opium smugglers, avoid enemy patrols, and defend the undermanned U.S. base. As he closes in on the smuggling operation, he discovers that someone inside the base has a stake in it, and is willing to kill to protect that stake.
Praise For Red Flags…
"...intriguing...Jurjevics (The Trudeau Vector), himself a Vietnam veteran, is best when describing the details of daily life during war, particularly those involving the abuse of the huge native tribal population of Montagnards."
- Publishers Weekly
"Red Flags is not only an espionage thriller but
a fascinating and extraordinarily authentic look at the Vietnam War through the eyes of a wry intelligence officer.
You will hear the thumps of the Chinook rotors and feel the Kalashnikovs' bullets buzzing past."
- Keith Thomson,
New York Times
Bestselling author of
Once a Spy
"In
Red Flags,
Juris Jurjevics has brilliantly accomplished a feat that is becoming a major characteristic of 21st century literature: the seamless combining of a genre form with the deep resonance of literary art. This is a book that is thrilling to read for both its narrative drive and its insight into the human heart."
- Robert Olen Butler, author of
Hell
"To step onto the pages of this intriguing spy tale and haunting war story is to feel the swelter of the rain forest, the menace of enemy patrols, and the maddening duplicity of supposed allies.
Red Flags
is a richly rewarding hitch in harrowing territory. Enlist immediately."
- Dan Fesperman, author of
Layover in Dubai
"Juris Jurjevics has achieved the seemingly irreconcilable by bringing the Vietnam War back, and simultaneously making it new. He has found new dangers in Vietnam--like it needed them. It's a great thriller, and a great heartbreak, like its subject matter."
-Jim Morris, author of
War Story
"
Red Flags
is a gripping tale of adventure and mystery set in the backdrop of the complexity and corruption of the Vietnam War. Jurjevics's extensive research and first-hand experience in Vietnam result in a story that is both amazing and, at the same time, believable. A great read!"
-Doug Bey M.D. 1st Inf.Div Vietnam 1969-1970, author of
Wizard 6
Advertisement