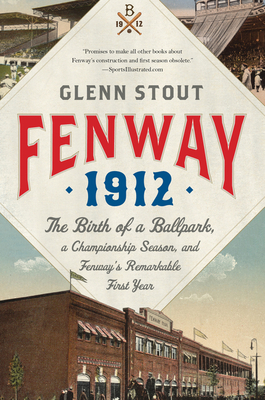 Fenway 1912 (Paperback)
The Birth of a Ballpark, a Championship Season, and Fenway's Remarkable First Year
Mariner Books, 9780547844572, 432pp.
Publication Date: September 25, 2012
Other Editions of This Title:
Hardcover (10/11/2011)
* Individual store prices may vary.
Description
Winner of the 2011 Seymour Medal from the Society for American Baseball Research, for the best book of baseball history or biography

"An irresistible look back on Fenway Park's first season, not just for Sox fans . . . a great choice for anyone who enjoys a dip into baseball history at its best."—Huffington Post

Even people who aren't fans of baseball know Fenway Park. More than just a ballpark, it is a part of American culture, and has been for nearly one hundred years. In Fenway 1912, Glenn Stout tells the remarkable story of Fenway's first year, from the long winter when locals poured concrete and built the park to the ragtag Red Sox team that embarked on a journey to the World Series while the paint was still drying and the grass still coming in. Stout tells the stories behind the park's notorious quirks like the Green Monster, and of the designers, builders, managers, and players who made Fenway's first year unforgettable.

For all that has been written in tribute to the great Fenway Park, no one has ever really told the behind-the-scenes true story. Drawing on extensive new research, the esteemed baseball historian Glenn Stout delivers an extraordinary tale of innovation, desperation, and perspiration—capturing Fenway as never before.

"Fenway 1912 reads like a novel, detailing the trials and tribulations of the quaint ballpark and the team itself … Stout has made a great story out of history."—Baseball America

"Stout's vivid writing and extraordinary research make the journey worthwhile in so many ways . . . you will likely feel as if you were in the creaky grandstand yourself."—Boston Globe
About the Author
GLENN STOUT is a freelance writer, author, and editorial consultant and has served as series editor of The Best American Sports Writing since its inception. He is the author of Young Woman and the Sea and Fenway 1912, and has collaborated with Richard Johnson on Red Sox Century, Yankees Century, The Cubs and The Dodgers. Stout has lived in and around Boston for 20 years, and currently lives in Vermont. 
 
Praise For Fenway 1912: The Birth of a Ballpark, a Championship Season, and Fenway's Remarkable First Year…
"Stout imbues his account with a unique vibrancy and a razor-sharp intelligence. A wonderful sports book." -- Booklist, starred review
"A valuable addition to baseball history . . . Baseball diehards and historians, and of course Red Sox fans, will find much of interest in this paean to one of sport's most famous venues." -- Kirkus Reviews
"Fun and informative . . . A well-constructed tribute to Fenway on its upcoming 100th anniversary." -- Publishers Weekly
"This is a book for anyone who cares about the storied Boston Red Sox, about their 100-year-old bandbox of a stadium, about the remarkable championship season of 1912, about the street-level history of Boston, and about why baseball will forever be the all-American pastime. This is a book for all of us."
– Larry Tye, author of SATCHEL: The Life and Times of an American Legend
"Glenn Stout has done the impossible: he has put an end to the seemingly bottomless genre that is Fenway Park books. We now need no more. We get not pomp and circumstance, but the bones and blueprint of a legendary ballpark — topped with a star-filled World Series that still endures. He doesn't pretend history is straw hats and cigars, but gives you real people, real baseball and (the best part) real Boston, the way any real writer should."
–
Howard Bryant, ESPN, and author of The Last Hero: A Life of Henry Aaron
or
Not Currently Available for Direct Purchase