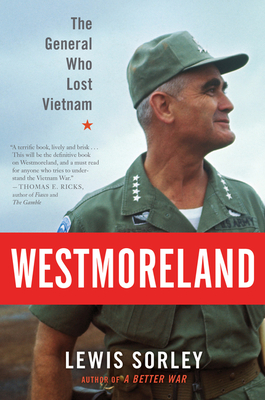 Westmoreland
The General Who Lost Vietnam
Paperback

* Individual store prices may vary.
Other Editions of This Title:
Hardcover (10/11/2011)
Description
"Westmoreland is a great book, a classic by an author who knows his subject well and tells the story without hesitation." — General Donn A. Starry, U.S. Army (ret.), Commander, Army Training and Doctrine Command (1977–1981)

Is it possible that the riddle of America's military failure in Vietnam has a one-word, one-man answer?

Unless and until we understand General William Westmoreland, we will never understand what went wrong in Vietnam. An Eagle Scout at fifteen, First Captain of his West Point class, Westmoreland fought in two wars and became Superintendent at West Point. Then he was chosen to lead the war effort in Vietnam for four crucial years.
He proved a disaster. He could not think creatively about unconventional warfare, chose an unavailing strategy, stuck to it in the face of all opposition, and stood accused of fudging the results when it mattered most. In this definitive portrait, Lewis Sorley makes a plausible case that the war could have been won were it not for Westmoreland. The tragedy of William Westmoreland carries lessons not just for Vietnam, but for the future of American leadership.
Westmoreland is essential reading from a masterly historian.
Praise For Westmoreland: The General Who Lost Vietnam…
"This is a terrific book, lively and brisk, and surprisingly interesting. How could this deeply flawed, limited man rise so high in the U.S. Army? This will be the definitive book on Westmoreland, and a must read for anyone who tries to understand the Vietnam War."
-Thomas E. Ricks, author of Fiasco  and The Gamble
" Lewis Sorley's brilliant portrait of General Westmoreland helps us understand why our war lasted so long and ended as it did. This is biography at its finest."
- Bui Diem, South Vietnamese Ambassador to the United States (1967-1972)
"A
riveting history
of how ambition corrupted soldierly virtues and led to slyness, hubris and national disaster.
A scorching indictment of how generals covered up for each other
."-Bing West, author of THE WRONG WAR: Grit, Strategy, and the Way Out of Afghanistan  "To understand the Vietnam War in its totality one must logically try to understand General Westmoreland.  Dr. Lewis
Sorley has made an enormous contribution
by revealing General Westmoreland's complex personality and the role it played in U.S. foreign policy."-Melvin R. Laird, former Secretary of Defense and nine-term Member of Congress  
"Reaching beyond the surface to penetrate the enigma of General William C. Westmoreland, Lewis Sorley gathers the recollections of Westy's Army colleagues, the man's personal papers, and official records to tell the story of a general who has remained opaque despite the many debates over his role in the Vietnam war.
Eye-opening and sometimes maddening, Sorley's Westmoreland is not to be missed
." -John Prados, author of
Vietnam: The History of an Unwinnable War
Mariner Books, 9780547844923, 432pp.
Publication Date: October 16, 2012
About the Author
Lewis Sorley is a third-generation graduate of the United States Military Academy who also holds a Ph.D. from the Johns Hopkins University. He served in Vietnam, and in the Pentagon in the offices of Secretary of Defense James R. Schlesinger and Army Chief of Staff General William C. Westmoreland. He also taught at West Point and the Army War College. He is the author of five highly-regarded works of military history.