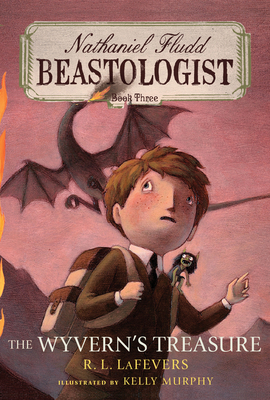 The Wyverns' Treasure (Nathaniel Fludd #3) (Paperback)
Houghton Mifflin, 9780547858234, 154pp.
Publication Date: April 17, 2012
Description
After tangling with the deadly basilisk, Nathaniel Fludd is glad to return to England with his Aunt Phil. But someone has ransacked their home, and their best suspect is the sinister man who's been trying to steal the Book of Beasts.
Before Nate and Aunt Phil can find the culprit, they are called to Welsh countryside. The wyverns (giant dragons) are in an uproar. Could the same man who ransacked the Fludd house be behind the rift with the wyverns? And just what does he want with The Book of Beasts? But before Nate can solve that mystery, he must calm the dragons before it's too late. It's just another day at work for the world's youngest beastologist
Praise For The Wyverns' Treasure (Nathaniel Fludd #3)…
Praise for Nathaniel Fludd, Beastologist: The Flight of the Phoenix (Book 1):   "A solid start to a new series. . . . A quick and enticing read that will appeal to a wide variety of children." —School Library Journal   "A fastpaced story that successfully combines fantasy and history into an entertaining, believable world." —Booklist   "Straightforward sentences, chronological narrative, short chapters, and Murphy's plentiful black-and-white illustrations make this appropriate for middle-grade readers looking for a series to grow with." —Kirkus Reviews   "LaFevers gets the Nathanial Fludd, Beastologist series off to a sprightly start with this wry story. . . [a] quick-paced adventure, which should entice kids to return for Nate's next escapade." —Publishers Weekly
Advertisement