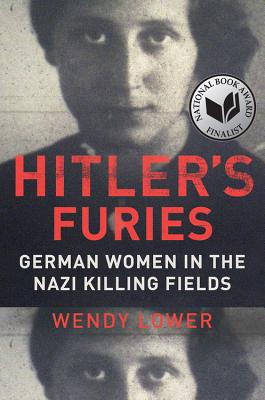 Hitler's Furies
German Women in the Nazi Killing Fields
Hardcover

* Individual store prices may vary.
Other Editions of This Title:
Digital Audiobook (10/7/2013)
Paperback (10/7/2014)
Compact Disc (10/8/2013)
Compact Disc (10/8/2013)
MP3 CD (10/8/2013)
Description
Wendy Lower's stunning account of the role of German women on the World War II Nazi eastern front powerfully revises history, proving that we have ignored the reality of women's participation in the Holocaust, including as brutal killers. The long-held picture of German women holding down the home front during the war, as loyal wives and cheerleaders for the Führer, pales in comparison to Lower's incisive case for the massive complicity, and worse, of the 500,000 young German women she places, for the first time, directly in the killing fields of the expanding Reich.

Hitler's Furies builds a fascinating and convincing picture of a morally "lost generation" of young women, born into a defeated, tumultuous post–World War I Germany, and then swept up in the nationalistic fervor of the Nazi movement—a twisted political awakening that turned to genocide. These young women—nurses, teachers, secretaries, wives, and mistresses—saw the emerging Nazi empire as a kind of "wild east" of career and matrimonial opportunity, and yet could not have imagined what they would witness and do there. Lower, drawing on twenty years of archival and field work on the Holocaust, access to post-Soviet documents, and interviews with German witnesses, presents overwhelming evidence that these women were more than "desk murderers" or comforters of murderous German men: that they went on "shopping sprees" for Jewish-owned goods and also brutalized Jews in the ghettos of Poland, Ukraine, and Belarus; that they were present at killing-field picnics, not only providing refreshment but also taking their turn at the mass shooting. And Lower uncovers the stories, perhaps most horrific, of SS wives with children of their own, whose female brutality is as chilling as any in history.

Hitler's Furies will challenge our deepest beliefs: genocide is women's business too, and the evidence can be hidden for seventy years.
Praise For Hitler's Furies: German Women in the Nazi Killing Fields…
"
Hitlers Furies
will be experienced and remembered as a turning point in both women's studies and Holocaust studies."—Timothy Snyder, author of
Bloodlands
"Hitler's Furies is the first book to follow the biographical trajectories of individual women whose youthful exuberance, loyalty to the Führer, ambition, and racism took them to the deadliest sites in German-occupied Europe.  Drawing on immensely rich source material, Wendy Lower integrates women perpetrators and accomplices into the social history of the Third Reich, and illuminates them indelibly as a part of post-war East and West German memory that has been, until this book, unmined."—Claudia Koonz, author of Mothers in the Fatherland
"Hitler's Furies is a long overdue and superb addition to the history of the Holocaust.   The role of women perpetrators during the Final Solution has been too much glossed over.  Wendy Lower's book provides an important and stunning corrective.   It is a significant addition to our understanding of the role of ordinary Germans in the Reich's genocide."—Deborah Lipstadt, author of Eichmann on Trial

"Lower shifts away from the narrow focus on the few thousand female concentration camp guards who have been at the center of previous studies of female culpability in Nazi crimes and identifies the cluster of professions—nurses, social workers, teachers, office workers—that in addition to family connections brought nearly one-half million women to the German East and into close proximity with pervasive Nazi atrocities.  Through the lives of carefully-researched individuals, she captures a spectrum of career trajectories and behavior.  This is a book that artfully combines the study of gender with the illumination of individual experience."—Christopher R. Browning, author of Ordinary Men

"A virtuosic feat of scholarship." -- Kirkus Reviews
"Lower sheds some much-needed light on an aspect of WWII history that has remained in the shadows for decades . . . Surprising and deeply unsettling, the book is a welcome addition to the literature on the Holocaust." -- Booklist

"Intriguing and chilling . . . feminism run amok." -- Chicago Tribune
"Disquieting . . . Ms. Lower's book is partly the study of a youthquake . . . Earlier books about the Holocaust have offered up poster girls of brutality and atrocity . . .[Lower's] insight is to track more mundane lives, and to argue for a vastly wider complicity."
-- New York Times
"Well-researched . . .
as gripping and eye-opening as it is chilling." --
People
"The triumph of Lower's book is its meticulous biographical impulse. Nothing gets muffled in social science, and by tracing the lives of a dozen or so women, Lower brings out the uniqueness of their stories and the gray areas...This measured judgment gives Lower's documentation its power.
Hitler's Furies
is above all a brave book. It is brave in forcing from the archives a story that no one wanted to tell. It is brave as well in its willingness to imagine women lashing out with the same murderous will and rage as men." --
New Republic
"Compelling . . . Lower brings to the forefront an unexplored aspect of the Holocaust." --
Washington Post
"
Hitler's Furies
is an unsettling but significant contribution to our understanding of how nationalism, and specifically conceptions of loyalty, are normalized, reinforced, and regulated. By asking important questions about the pervasive culpability of Nazi women, Lower has highlighted a historical blind spot." --
Los Angeles Review of Books
Mariner Books, 9780547863382, 288pp.
Publication Date: October 8, 2013
About the Author
WENDY LOWER is the author of the National Book Award and National Jewish Book Award finalist Hitler's Furies, which has been translated into twenty-three languages. Recently the acting director of the Mandel Center for Advanced Holocaust Studies at the U.S. Holocaust Memorial Museum, Lower is the John K. Roth Professor of History and director of the Mgrublian Center for Human Rights at Claremont McKenna College.
or
Not Currently Available for Direct Purchase