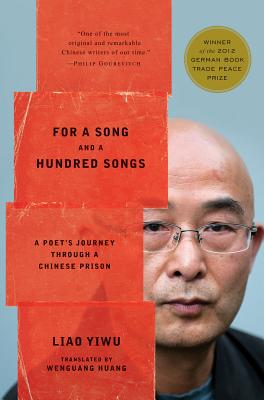 For a Song and a Hundred Songs
A Poet's Journey through a Chinese Prison
Hardcover

* Individual store prices may vary.
Description
WINNER OF THE 2012 GERMAN BOOK TRADE PEACE PRIZE
In June 1989, news of the Tiananmen Square protests and its bloody resolution reverberated throughout the world. A young poet named Liao Yiwu, who had until then led an apolitical bohemian existence, found his voice in that moment. Like the solitary man who stood firmly in front of a line of tanks, Liao proclaimed his outrage—and his words would be his weapon.
 
For a Song and a Hundred Songs captures the four brutal years Liao spent in jail for writing the incendiary poem "Massacre." Through the power and beauty of his prose, he reveals the bleak reality of crowded Chinese prisons—the harassment from guards and fellow prisoners, the torture, the conflicts among human beings in close confinement, and the boredom of everyday life. But even in his darkest hours, Liao manages to unearth the fundamental humanity in his cell mates: he writes of how they listen with rapt attention to each other's stories of criminal endeavors gone wrong and of how one night, ravenous with hunger, they dream up an "imaginary feast," with each inmate trying to one-up the next by describing a more elaborate dish.
 
In this important book, Liao presents a stark and devastating portrait of a nation in flux, exposing a side of China that outsiders rarely get to see. In the wake of 2011's Arab Spring, the world has witnessed for a second time China's crackdown on those citizens who would speak their mind, like artist Ai Weiwei and legal activist Chen Guangcheng. Liao stands squarely among them and gives voice to not only his own story, but to the stories of those individuals who can no longer speak for themselves. For a Song and a Hundred Songs bears witness to history and will forever change the way you view the rising superpower of China.
Praise For For a Song and a Hundred Songs: A Poet's Journey through a Chinese Prison…
"This vivid and lyrical memoir, a future classic, should have wide appeal as a consummate insider account of Chinese state terror." Publishers Weekly, starred review"Liao's work is an amazing testament to the people who are battling the Chinese police state."--Kirkus Reviews"The sheer drama of Liao Yiwu's odyssey—from poet to prisoner Number 099 to one of China's most acclaimed writers-in-exile—is matched only by the journey that brought this book to publication. The memoir of his four years in prison is riveting, painful testimony—a vital new chapter in the story of China's rise." --Evan Osnos, staff writer at The New Yorker"Courageous and powerful. Unforgettable." --Jung Chang, author of Wild Swans and co-author of Mao: the Unknown Story"For a Song and a Hundred Songs opens our eyes….[it is] a book of tremendous literary force. The author's linguistic prowess renders it disturbingly cold and invitingly warm, angry and charismatic at once."--Herta Muller, recipient of the 2009 Nobel Prize in Literature and author of The Hunger Angel"One of the most original and remarkable Chinese writers of our time." -Philip Gourevitch"Reading Liao Yiwu's memoir transported me to his world, in a very visceral way. Liao guides us through harrowing scenes, but the narrative is frequently punctuated by poetic moments when art and truth transcend the horrors." -- Alison Klayman, director of Ai Weiwei: Never Sorry
New Harvest, 9780547892634, 432pp.
Publication Date: June 4, 2013
About the Author
Liao Yiwu is a writer, musician, and poet from Sichuan, China. He is a critic of the Chinese regime, for which he has been imprisoned, and the majority of his writings are banned in China. Liao is the author of The Corpse Walker and God Is Red. He has received numerous awards for his work, including the prestigious 2012 Peace Prize awarded by the German Book Trade and the Geschwister-Scholl-Preis in 2011 for the publication of his memoir in Germany.


Wenguang Huang is a writer, journalist, and translator whose articles and translations have appeared in The Wall Street Journal Asia, Chicago Tribune, The Paris Review, Asia Literary Review, and The Christian Science Monitor. He also translated Liao's The Corpse Walker. In 2007, Huang received a PEN Translation Fund grant. Born in China, he currently lives in Chicago, Illinois.
or
Not Currently Available for Direct Purchase