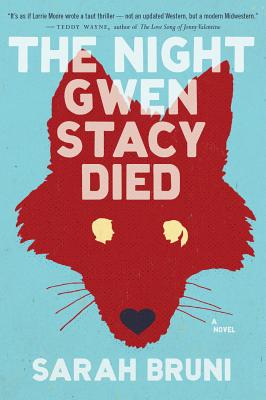 The Night Gwen Stacy Died (Paperback)
Mariner Books, 9780547898162, 288pp.
Publication Date: July 2, 2013
* Individual store prices may vary.
Description
An offbeat love story about the adventures and mutual rescue of a young woman out of place in her hometown and a mysterious stranger who calls himself Peter Parker (and begins to cast her in the role of Spider-Man's first sweetheart), The Night Gwen Stacy Died is about first loss, first love, and finding our real identities.

"A dreamy world where comic book characters and psychic visions are as real as teenage boredom and young love, Bruni's debut is a magical story, a white-knuckle thrill ride." —Diana Spechler, author of Who by Fire

"The perspective shifts, slippery identities, and lurking weirdness in this book recall the peak moments of Kurosawa, Hitchcock, and Lynch. But to describe it in cinematic terms would risk slighting that bighearted, sneakily exhilarating voice that can finally be only the work of a masterful writer." —Sean Howe, author of Marvel Comics: The Untold Story

"Bruni's fiercely smart and delectably unpredictable first novel delivers again and again that most sought-after shiver up the spine, the chill that comes when you realize the world you thought you knew and understood is newer and stranger than you ever dared imagine. A genuine page-turner." —Kathryn Davis, author of The Thin Place

"Mixed into this novel's blustery atmosphere are gusts of contemporary masters, like Joy Williams, Lorrie Moore, Kelly Link, and Michael Chabon. This gave me the sort of reading experience I always hope for but almost never find: a world that somehow both resembles the one in which I live and is also unlike any other I've ever seen or read." —Stefan Merrill Block, author of The Story of Forgetting

"A brave and bold new voice, Bruni takes us on an unexpected adventure of love and loss, of beginnings and ends, all the while showing us what it really means to be a hero." —Alison Espach, author of The Adults
About the Author
Sarah Bruni is a graduate of the MFA program in Fiction Writing at Washington University in St. Louis and holds a degree in English Literature from the Univeristity of Iowa. Since growing up in and around Chicago, she has taught creative writing in St. Louis and volunteered as a writing and English tutor with youth in San Francisco and Montevideo, Uruguay. The Night Gwen Stacy Died is her first novel.
Praise For The Night Gwen Stacy Died…
"Sweetly eccentric."—
New York Times Book Review
"THE NIGHT GWEN STACY DIED uses Spider-Man lore to tell the tale of two loners and improbable lawbreakers from Iowa, a high-school student and a taxi-driver, who embark on a mission of escape to Chicago. Staged, at first, as an abduction—gun, robbery, kidnapping—their adventure quickly begins to resemble
a surreal love story. Bruni's book superbly explores the part fiction plays in our search for identity."
-Bookforum.com
"Superbly suspenseful first novel
...
Bruni does a masterful job evoking their world, equal parts fantasy and reality
and further skewed by a downtown Chicago that's been invaded by coyotes...She keeps readers guessing as the plot twists and turns.
Bruni writes dark passages and playful moments with equal aplomb. The world is her oyster." -
Kirkus
, starred
"Part tangled love story and part love affair with comics, this debut novel centers on that tenuous bit of time between childhood and adulthood, when anything seems possible and so many decisions seem inevitable. Rough with dark psychology, rich with introspection and emotion, this beautifully written book will appeal to fans of Spider-Man comics as well as coming-of-age fiction."
—Library Journal
"Engaging… The novel's quirky tone and accessible themes of rescue and recovery make for a likeable read." –
Publishers Weekly
"Bruni drops us into a dreamy world where comic book characters and psychic visions are as real as teenage boredom and young love. Strange, funny, sexy, and full of insights you'll want to revisit, Bruni's debut is a magical story, a white-knuckle thrill ride."
—Diana Spechler, author of Who by Fire and Skinny
"Sarah Bruni's fiercely smart and delectably unpredictable first novel delivers again and again that most sought-after shiver up the spine, the chill that comes when you realize the world you thought you knew and understood is newer and stranger than you ever dared imagine. The Night Gwen Stacy Died is a genuine page-turner."
—Kathryn Davis, author of The Walking Tour
"Mixed into the blustery atmosphere of The Night Gwen Stacy Died are gusts of contemporary masters, like Joy Williams, Lorrie Moore, Kelly Link, and Michael Chabon. But, like the heroes of her story, Bruni is too spirited to be confined by the voices and tales of others. The magic in the air, it turns out, is Bruni's singular voice, a spell that so easily carried me away. Bruni's debut novel gave me the sort of reading experience I always hope for but almost never find: a world that somehow both resembles the one in which I live and is also unlike any other I've ever seen or read."
—Stefan Merrill Block, author of The Story of Forgetting
"In this sterling debut, a pseudo Bonnie and Clyde with Peter Parker and Gwen Stacy delusions go on the lam in Iowa and hide out in Chicago, but the pleasures here go far beyond the propulsive narrative. The prose is blade-sharp, the eerie love story is leavened with moments of unforced wit, and the nuanced observations are utterly idiosyncratic. It's as if Lorrie Moore wrote a taut thriller—not an updated Western, but a modern Midwestern."
—Teddy Wayne , author of The Love Song of Jonny Valentine"Sarah Bruni is a brave and bold new voice. This thrilling novel is as wise and intelligent as it is young at heart. With humor and grace, Bruni takes us on an unexpected adventure of love and loss, of beginnings and ends, all the while showing us what it really means to be a hero."
—Alison Espach, author of The Adults"The perspective shifts, slippery identities, and lurking weirdness in this book recall the peak moments of Kurosawa, Hitchcock, and Lynch; Sarah Bruni even choreographs her production with the easy verve and keen eye of a great director. But to describe The Night Gwen Stacy Died in cinematic terms would risk slighting the patience and generosity and grace of Bruni's language, and it's that bighearted, sneakily exhilarating voice that can finally be only the work of a masterful writer."
—Sean Howe, author of Marvel Comics: The Untold Story