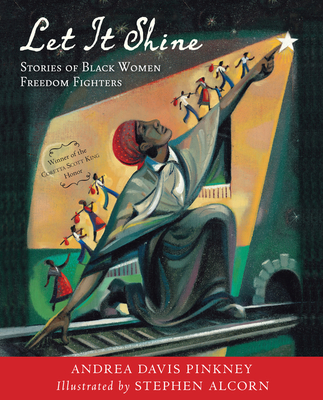 Let It Shine
Stories of Black Women Freedom Fighters
Paperback

* Individual store prices may vary.
Other Editions of This Title:
Prebound (1/8/2013)
Description
2001 Coretta Scott King Honor Book

Rosa Parks refused to give up her seat on a bus and sparked a boycott that changed America. Harriet Tubman helped more than three hundred slaves escape the South on the Underground Railroad. Shirley Chisholm became the first black woman elected to the U.S. House of Representatives.
The lives these women led are part of an incredible story about courage in the face of oppression; about the challenges and triumphs of the battle for civil rights; and about speaking out for what you believe in--even when it feels like no one is listening. Andrea Davis Pinkney's moving text and Stephen Alcorn's glorious portraits celebrate the lives of ten bold women who lit the path to freedom for generations. Includes biographies of Sojournor Truth, Biddy Mason, Harriet Tubman, Ida B.Wells-Barnett, Mary McLeod Bethune, Ella Josephine Baker, Dorothy Irene Height, Rosa Parks, Fannie Lou Hamer, and Shirley Chisholm.
Praise For Let It Shine: Stories of Black Women Freedom Fighters…
 "Pinkney (Silent Thunder) presents eloquent portraits of 10 intrepid African-American activists for the causes of abolition, women's rights and civil rights. Exploring these individuals' childhoods as well as their accomplishments as adults, the author smoothly distills biographical information so as to hold the attention of young readers. Her selection of subjects includes the prominent (Sojourner Truth, Harriet Tubman, Rosa Parks and Shirley Chisholm) as well as such lesser-knowns as Fannie Lou Hamer, an indefatigable campaigner for African-Americans' right to vote. Pinkney's writing is spiced with colloquialisms ("She didn't shy back for nobody," she says of Sojourner Truth) and useful imagery (describing this same crusader's delivery of her renowned "Ain't I a woman?" speech, the author notes, "She was the only black woman in the place, and when she stepped to the pulpit, some folks looked at her like she was a stain on their purest linens"). Featuring creatively skewed perspective and proportion, Alcorn's (I, Too, Sing America) oil paintings offer allegorical interpretations of his subjects' lives." Publishers Weekly "Engaging text and glorious art are combined in this collection of sketches celebrating the contributions of 10 women who moved forward the cause of civil rights in America. Following a preface that describes her own family roots in the civil rights movement and their influence on her, Pinkney presents her heroines chronologically, from Sojourner Truth to Shirley Chisholm, in verbal portraits that capture the subjects' spirit and personalities amid biographical highlights. Blending straightforward narrative with a lively storytelling style, the author balances the hardships and racial injustice that these women faced against their faith, strength of character, and determination. They include Harriet Tubman, Mary McLeod Bethune, and Rosa Parks, as well as Biddy Mason, Ida B. Wells-Barnett, Ella Josephine Baker, Dorothy Irene Height, and Fannie Lou Hamer. The book includes many quotes, incidents, and details that lead readers down their personal paths to historical recognition. However, it is Alcorn's vibrant, inspired oil paintings that make this book a standout. A full-page stylized portrait appears opposite the first page of each story; it is filled with symbolic details that are elucidated in the text. A brilliant example is a larger-than-life Harriet Tubman balanced on one knee over a railroad track with arms diagonally outstretched, bridgelike, as tiny travelers make their way up the steep height toward the freedom star. Smaller paintings appear within the stories, carrying the message further. Line, color, and canvas texture give the pictures depth and dynamism, vastly enriching the reading experience. This excellent collection is a must for every library." School Library Journal —
Clarion Books, 9780547906041, 120pp.
Publication Date: January 8, 2013
About the Author
Andrea Davis Pinkney is the New York Times best-selling author of several books for young readers, including the novel Bird in a Box, a Today Show Al Roker Book Club for Kids pick, and Hand in Hand: Ten Black Men Who Changed America, winner of the Coretta Scott King Author Award. Additional works include the Caldecott Honor and Coretta Scott King Honor book Duke Ellington, illustrated by her husband, Brian Pinkney; and Let It Shine: Stories of Black Women Freedom Fighters, a Coretta Scott King Honor book and winner of the Carter G. Woodson Award. Andrea Davis Pinkney lives in New York City.

Stephen Alcorn is an acclaimed painter and printmaker who has created artwork for a number of anthologies and picture books, including Let It Shine: Stories of Black Women Freedom Fighters by Andrea Davis Pinkney, and I, Too, Sing America: Three Centuries of African American Poetry by Catherine Clinton. He lives in Cambridge, New York. Visit Stephen Alcorn at alcorngallery.com.