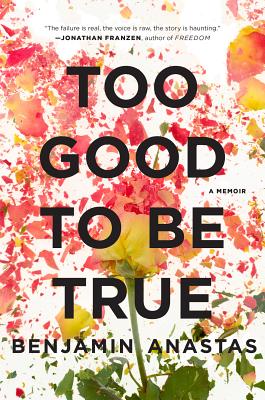 Too Good to Be True (Hardcover)
New Harvest, 9780547913995, 177pp.
Publication Date: October 16, 2012
Other Editions of This Title:
Compact Disc (6/22/2016)
Paperback (10/25/2016)
MP3 CD (8/11/2015)
Compact Disc (10/16/2012)
MP3 CD (10/16/2012)
MP3 CD (10/16/2012)
Compact Disc (10/16/2012)
* Individual store prices may vary.
Description
When he was three, in the early 1970s, Benjamin Anastas found himself in his mother's fringe-therapy group in Massachusetts, a sign around his neck: Too Good to Be True. The phrase haunted him through his life, even as he found the literary acclaim he sought after his 1999 novel, "An Underachiever's Diary, " had made the smart set take notice."Too Good to Be True" is his deeply moving memoir of fathers and sons, crushing debt and infidelity and the first, cautious steps taken toward piecing a life back together.
It took a long time for me to admit I had failed, Anastas begins. Broke, his promising literary career evaporated, he's hounded by debt collectors as he tries to repair a life ripped apart by the spectacular implosion of his marriage, which ended when his pregnant wife left him for another man. Had it all been too good to be true? Anastas's fierce love for his young son forces him to confront his own childhood, fraught with mental illness and divorce. His father's disdain for money might have been in line with the 70s zeitgeist but what does it mean when you re dumping change into a Coinstar machine, trying to scrounge enough to buy your son a meal? Charged with rage and despair, humor and hope, this unforgettable book is about losing one's way and finding it again, and the redemptive power of art.
Praise For Too Good to Be True…
"A miasma of misfortune… the author's many battles have wrung from him both catharsis and poignancy… [a] raw yet eloquent presentation of a life in crisis mode." —Kirkus

"The failure is real, the voice is raw, the story is haunting." —Jonathan Franzen, author of Freedom

"Too Good to Be True is smart and honest and searching…so plaintive and raw that most writers (and many readers) will finish it with heart palpitations." —Dwight Garner, New York Times

"Scenes of a '70s childhood, complete with pot-smoking parents and 'a lot of adult nudity' yield unexpected sweetness and humor in a book that's often searingly painful." — Boston Globe

"Self-pity has never been so bracing—or hilarious." —Town & Country

"Anastas has written one of the most memorable memoirs we've read all year." —Sarah Weinman, Publishers Lunch

"A spectacular account of mind-blowing failure. It is short and it is beautiful and you must buy it." —Gary Shteyngart, author of Super Sad True Love Story
"'Enjoyed' is the wrong word for this book. You don't enjoy eating a bag of glass shards mixed in with bloody pulpy bits of a human heart. Enjoyment, in this case, is irrelevant —I devoured this book not in spite of the pain, but because of it. This is a messy, vital, non-story of a story. I finished it and felt covered in the debris of a life." —Charles Yu, author of How To Live Safely in a Science Fictional Universe
"I love this book so much. Which is weird, considering that it consists of watching Anastas take blow after blow, before being battered and receiving more blows. But you won't pity the author, who leans into even the most difficult situations with wonder and boundless empathy; instead you'll just wish he could narrate your own disasters to you, so you could see the art in the salvage." —Rivka Galchen, author of Atmospheric Disturbances
"A lot of books get called things like 'brutally honest,' but few books are really as brutal as Too Good to Be True. Benjamin Anastas has taken disheartening failure and turned it into searing, soaring success." —Daniel Handler, author of Why We Broke Up
"In this taut memoir, Anastas writes about his admittedly colossal failures and the myriad indignities of poverty, such as what it feels like to be pursued at all hours by debt collectors or having to pay tribute to a Coinstar machine just to buy food for your son. The train wreck (and it is a grisly one) isn't the only compelling thing here, however, since Anastas can craft a world-class sentence." — The Daily Beast, "Hot Reads"
Listed in O, The Oprah Magazine The Reading Room's "10 Titles to Pick Up Now" — November 2012, O, The Oprah Magazine
Featured in Vogue.com's "Fall's Best Memoirs"
Featured in TIME Magazine's "Fall Reading"
or
Not Currently Available for Direct Purchase