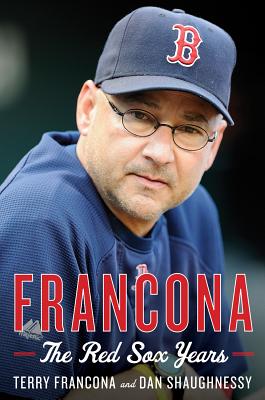 Francona (Hardcover)
The Red Sox Years
Houghton Mifflin, 9780547928173, 368pp.
Publication Date: January 22, 2013
* Individual store prices may vary.
Description
From 2004 to 2011, Terry Francona managed the Boston Red Sox, perhaps the most scrutinized team in all of sports. During that time, every home game was a sellout. Every play, call, word, gesture--on the field and off--was analyzed by thousands. And every decision was either genius, or disastrous. In those eight years, the Red Sox were transformed from a cursed franchise to one of the most successful and profitable in baseball history--only to fall back to last place as soon as Francona was gone. Now, in Francona: The Red Sox Years, the decorated manager opens up for the first time about his tenure in Boston, unspooling the narrative of how this world-class organization reached such incredible highs and dipped to equally incredible lows. But through it all, there was always baseball, that beautiful game of which Francona never lost sight. As no book has ever quite done before, Francona escorts readers into the rarefied world of a twenty-first-century clubhouse, revealing the mercurial dynamic of the national pastime from the inside out. From his unique vantage point, Francona chronicles an epic era, from 2004, his first year as the Sox skipper, when they won their first championship in 86 years, through another win in 2007, to the controversial September collapse just four years later. He recounts the tightrope walk of managing unpredictable personalities such as Pedro Martinez and Manny Ramirez and working with Theo Epstein, the general managing phenom, and his statistics-driven executives. It was a job that meant balancing their voluminous data with the emotions of a 25-man roster. It was a job that also meant trying to meet the expectations of three owners with often wildly differing opinions. Along the way, readers are treated to never-before-told stories about their favorite players, moments, losses, and wins. Ultimately, when for the Red Sox it became less about winning and more about making money, Francona contends they lost their way. But it was an unforgettable, endlessly entertaining, and instructive time in baseball history, one that is documented and celebrated in Francona, a book that examines like no other the art of managing in today's game.
About the Author
TERRY "TITO" FRANCONA was a major league baseball player from 1981 to 1990. After he retired as a player, he managed the Philadelphia Phillies for four seasons. From 2004 to 2011 he managed the Boston Red Sox to two World Series championships. He has since worked as a baseball analyst for ESPN, hosting their Sunday Night Baseball telecast, and is now the manager of the Cleveland Indians. DAN SHAUGHNESSY is an award-winning columnist for the Boston Globe and the author of twelve sports books, including The Curse of the Bambino, a best-selling classic. Nine times Shaughnessy has been voted one of America's top ten sports columnists by the Associated Press Sports Editors, and ten times he has been named Massachusetts Sportswriter of the Year.
Praise For Francona: The Red Sox Years…
"Surprising…brutally honest…Francona's tenure included the highest-high, the first Red Sox title in 86 years and the lowest-low when a collapse kept the team from the playoffs that led to the manager's ouster." – USA Today
"The long-awaited memoir…It's not often that baseball aficionados and gossip gluttons can plunk down on a shared portion of outfield grass with the same book for an afternoon of readerly delight, but
Francona
can bridge those kinds of differences." –
Boston Globe
"Terry Francona's new book is not only a must read, but it is a fascinating and entertaining look into the daily life on Yawkey Way during that memorable time period...full of surprising and fun anecdotes…There are glimpses of his relationships with the players – good and bad…and in most cases Shaughnessy's thorough reporting includes perspective from the players, executives and owners." – MLB.com "A scorched-earth memoir …[that] touches fleetingly on steroid use, sabermetrics and Michael Jordan's stint in the minor leagues…but saves is heaviest artillery for the owners…[and] Theo Epstein backs him up." –
New York Times Book Review
"A good read, well worth it for any Red Sox fan or anyone interested in the last decade of baseball. Francona and Shaughnessy tell how the Red Sox became champions and also how it all fell apart." – CBSSports.com "A great read…good fun and dishy." – NBCSports.com "A bombshell." – Comcast Sports "
Francona: The Red Sox Years
is a compelling behind-the-scenes depiction…of an eight-year period that witnessed both the most spectacular successes in franchise history as well as some of the most devastating failures." – WEEI.com "An exhilarating and torturous recounting of Francona's eight-year run as the Red Sox manager…He knows how the game is supposed to be played, and how the players are supposed to act…Francona gets it. That's what the book reveals most." –
The News Herald
"An often hilarious but never salacious peek behind clubhouse doors…much of the book's advance buzz has focused on management's backward emphasis on sizzle…but it's the candor, often delivered with deft humor, about the players that will appeal to Red Sox fans. " – Chad Finn,
Boston Globe
"Reveals [Francona's] favorite highs from his historic stint with the team, and how he dealt with the crushing lows." –
Men's Health
"A fascinating and detailed look at how a franchise so desperate to win big and attract huge television ratings can lose its soul in the process." – Terry Pluto,
Cleveland Plain Dealer
"Francona's depiction of the Boston organization…provides insight…[and] cements every perception we have of a dysfunctional Red Sox hierarchy…internal proof that the Red Sox were forcing business wants on their baseball needs purely in the name of greed." – Tony Massarotti, Boston.com "You don't have to like the Red Sox to enjoy this book.
Francona: The Red Sox Years
shows the manager's true grit.
Francona
puts the reader behind the scenes in the often fiery, turbulent, never dull world of the Red Sox…It is vintage Francona, earthy blunt, comical and disarming… Francona and Shaughnessy together tell the story of a gritty baseball lifer who brought untold joy to Red Sox Nation, and Shaughnessy has captured Francona, warts and all." –
Tampa Bay Tribune
"Revenge is a dish best served cold? So is a tell-all book, even if it doesn't tell all. But Terry Francona tells enough in his new book with longtime Boston Globe columnist Dan Shaughnessy to take us into places with the Red Sox that the camera never goes….through the deft hands of the very accomplished Shaughnessy,
Francona
is also very insightful into … the pressures of managing in a white-hot media market like Boston." –
Providence Journal
"Even Yankees fans are going to want to read this Red Sox book." –
NY Daily News
"There are terrific anecdotes…the language is course and the opinions unfiltered. But for fans who want more than the team-approved version of events, it's a fun read. Just how much Francona loves baseball and the people in the game comes through. For years, you had to wonder what Francona really thought. We'll probably never know 100 percent, but this book gets you very close. My thoughts after finishing the book? Good luck to John Farrell." – Peter Abraham,
Boston Globe
"A searing indictment of Red Sox ownership….Red Sox Nation is eating up this new book… Francona's account of big shots screwing up is exquisite off-season sport." –
Publishers Weekly
"A 349-page firebombing." – Gerry Callahan,
Boston Herald
"The hottest sports book on the market." – Steve Buckley, BostonHerald.com
or
Not Currently Available for Direct Purchase