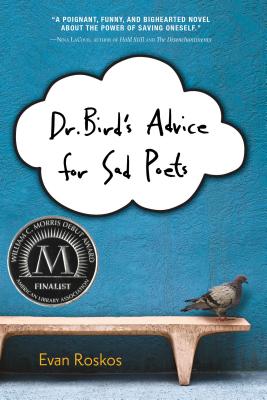 Dr. Bird's Advice for Sad Poets (Hardcover)
Houghton Mifflin, 9780547928531, 310pp.
Publication Date: March 5, 2013
Description
2014 Morris Award finalist
"I hate myself but I love Walt Whitman, the kook. Always positive. I need to be more positive, so I wake myself up every morning with a song of myself." Sixteen-year-old James Whitman has been yawping (a la Whitman) at his abusive father ever since he kicked his beloved older sister, Jorie, out of the house. James's painful struggle with anxiety and depression--along with his ongoing quest to understand what led to his self-destructive sister's exile--make for a heart-rending read, but his wild, exuberant Whitmanization of the world and keen sense of humor keep this emotionally charged debut novel buoyant.
Praise For Dr. Bird's Advice for Sad Poets…
"Roskos has created a character that does not necessarily change throughout the book, but learns to live with himself as he is, to celebrate himself and those around him even as flawed as they are."
—VOYA, 4Q 3P S

"Self-deprecating humor abounds in this debut novel that pulls no punches about the experience of depression and anxiety for its teen protagonist . . . Captivating introspection from a winning character."
—Kirkus, starred review

"Author Roskos's strength lies in his refusal to tidy up the mess in James's life and in his relentless honesty about surviving with depression and anxiety."
—Horn Book

"Roskos effectively sketches James as a boy who is far more comfortable inside his own head than in connecting with others . . . Bravely facing real sorrow, James confronts his problems with grace and courage."
—Publishers Weekly
Advertisement