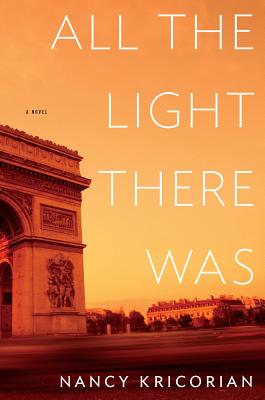 All the Light There Was (Hardcover)
Houghton Mifflin Harcourt, 9780547939940, 288pp.
Publication Date: March 12, 2013
* Individual store prices may vary.
Description
All the Light There Was is the story of an Armenian family's struggle to survive the Nazi occupation of Paris in the 1940s—a lyrical, finely wrought tale of loyalty, love, and the many faces of resistance.

On the day the Nazis march down the rue de Belleville, fourteen-year-old Maral Pegorian is living with her family in Paris; like many other Armenians who survived the genocide in their homeland, they have come to Paris to build a new life. The adults immediately set about gathering food and provisions, bracing for the deprivation they know all too well. But the children—Maral, her brother Missak, and their close friend Zaven—are spurred to action of another sort, finding secret and not-so-secret ways to resist their oppressors. Only when Zaven flees with his brother Barkev to avoid conscription does Maral realize that the Occupation is not simply a temporary outrage to be endured. After many fraught months, just one brother returns, changing the contours of Maral's world completely.

Like Tatiana de Rosnay's Sarah's Key and Jenna Blum's Those Who Save Us, All the Light There Was is an unforgettable portrait of lives caught in the crosswinds of history.

About the Author
Nancy Kricorian, author of the novels Zabelle and Dreams of Bread and Fire, is a widely published poet, essayist, and activist. After graduating from Dartmouth, Nancy studied and worked in Paris before earning an MFA in writing at Columbia University.
Praise For All the Light There Was…
"All the Light There Was offers a vivid picture of life for a minority family in occupied Paris, and author Kricorian effortlessly takes the reader from one year to the next….A pleasure to read."
—Historical Novel Society

"Beautifully conjured… Kricorian's touch is light, but the residual impact of war is nonetheless palpable."
—Eleanor J. Bader, In These Times

"Immersive as quicksand."
—Portland Book Review

"Moving. . . With a bittersweet love story, examples of everyday heroism, and a community refusing to give in to tyrants, Kricorian's work sheds even more light on the German occupation of France."
—Library Journal

"The first-person narrative nails the blend of daily detail and political history. . . . An important addition to the WWII fiction shelves, this is bound to spark discussion."
—Booklist

"
Solid and touching
. Readers are instantly drawn into this world, full of hardships of wartime occupation and references to the Armenian genocide of the previous generation. Thanks to multifaceted characters,
Kricorian's treatment of family dynamics and love under extreme circumstances creates an emotional read."
--
Publishers Weekly

"Nancy Kricorian is a gem, her work subtle and nuanced and moving. All the Light There Was brings Nazi-occupied Paris vividly, tragically, and heroically to life."
—Chris Bohjalian, author of The Sandcastle Girls and Midwives
"Love blooms just as war tears two people apart…Kricorian's rendering makes good on its promise of drama [and]….her heroine's resilience is exciting."—
The New York Times
or
Not Currently Available for Direct Purchase