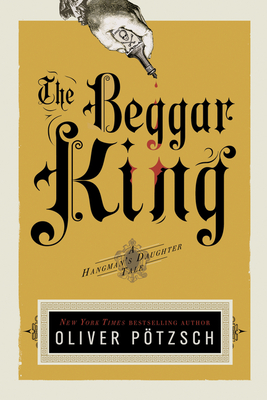 The Beggar King (Paperback)
A Hangman's Daughter Tale (Hangman's Daughter Tales #3)
Mariner Books, 9780547992198, 512pp.
Publication Date: January 8, 2013
* Individual store prices may vary.
Description
The third installment of the international best-selling Hangman's Daughter series
1662: Jakob Kuisl, the hangman of a village in the Alps, receives a letter from his sister calling him to the imperial city of Regensburg, where a gruesome sight awaits him: her throat has been slit. When the city constable discovers Kuisl alongside the corpse she locks him in a dungeon, where Kuisl will experience first-hand the torture he's administered himself for years. As nightmares assail him, Kuisl can only hope to prevail on the Regensburg executioner to show mercy to a fellow hangman.

Kuisl's steely daughter, Magdalena, and her young doctor paramour, Simon, rush to Regensburg and try to save Jakob, enlisting an underground network of beggars, a beer-brewing monk, and an Italian playboy for help. Navigating the labyrinthine city, they learn there is much more behind the false accusation than a personal vendetta: there is a plan that will endanger the entire German Empire.

Chock-full of fascinating historical detail, The Beggar King brings to vibrant life another tremendous tale of an unlikely hangman and his tough-as-nails daughter, confirming Pötzsch's mettle as a storyteller at the height of his powers.
About the Author
OLIVER PÖTZSCH, born in 1970, has worked for years as a scriptwriter for Bavarian television. He is a descendant of one of Bavaria's leading dynasties of executioners. Pötzsch lives in Munich with his family.
Lee Chadeayne is a former classical musician and college professor. He was one of the charter members of the American Literary Translators Association and is editor-in-chief of ALTA News.
Praise For The Beggar King: A Hangman's Daughter Tale (Hangman's Daughter Tales #3)…
"The Beggar King is a richly appointed historical novel, a compelling tapestry of violence, intrigue, and tenderness. Pötzsch drags you into his beautifully rendered and dangerous seventeenth-century Europe and doesn't let you escape until the final climactic page."
—Glenn Cooper, international bestselling author of Secret of the Seventh Son

"Twists and turns enmesh both the characters and the reader in this absorbing tale that captures, with an authenticity that is truly rare, the sounds and sights and smells of seventeenth-century Germany. A gripping story of love, betrayal, and long-delayed revenge."
—James Becker, author of The Moses Stone
"
The Beggar King
weaves a fascinating web of intrigue that invokes much more than just the intricate politics of 17th-century Germany. Oliver Pötzsch has brought to life the heady smells and tastes, the true reality of an era we've never seen quite like this before. The hangman Jakob and his feisty daughter Magdalena are characters we will want to root for in many books to come."—Katherine Neville, bestselling author of
The Eight
and
The Magic Circle
Praise for The Dark Monk
"Swift and sure, compelling as any conspiracy theory, persuasive as any spasm of paranoia, The Dark Monk grips you at the base of your skull and doesn't let go."
—Gregory Maguire, author of Wicked and Out of Oz
"Oliver Pötzsch takes readers on a darkly atmospheric visit to seventeenth-century Bavaria in his latest adventure. With enough mystery and intrigue to satisfy those who like gritty historical fiction, The Dark Monk has convincing characters, rip-roaring action, and finely-drawn settings."
—Deborah Harkness, author of A Discovery of Witches and Shadow of Night
"Weaving together the mystery of a murdered priest, a Templar treasure, and a kind-hearted hangman, Oliver Pötzsch's The Dark Monk is a labyrinth of clues and rich characters in seventeenth-century Bavaria. Pötzsch keeps the action boiling, the clues intriguing, and the history fascinating and authentic."
—William Dietrich, author of The Emerald Storm