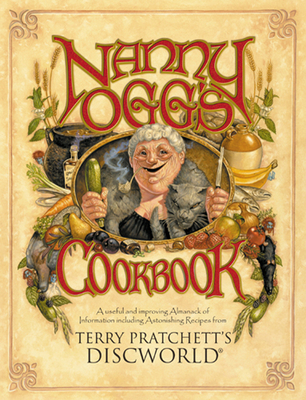 Nanny Ogg's Cookbook
A Useful and Improving Almanack of Information Including Astonishing Recipes from Terry Pratchett's Discworld (Discworld Series)
Paperback

* Individual store prices may vary.
Description
They say that the way to a man's heart is through his stomach which just goes to show they're as confused about anatomy as they gen'rally are about everything else, unless they're talking about instructions on how to stab him, in which case a better way is up and under the ribcage. Anyway, we do not live in a perfect world and it is foresighted and useful for a young woman to become proficient in those arts which will keep a weak-willed man from straying. Learning to cook is also useful. Nanny Ogg, one of Discworld's most famous witches, here passes on some of her huge collection of tasty and interesting recipes. In addition to such dishes as Nobby's Mum's Distressed Pudding, Mrs. Ogg imparts her thoughts on such matters as life, death, and courtship, all in a refined style that should not offend the most delicate of sensibilities. Well, not much. Most of the recipes have been tried out on people who are still alive.
Transworld Publishers, 9780552146739, 176pp.
Publication Date: November 1, 2001
About the Author
Terry Pratchett is the author of the best-selling, internationally-renowned Discworld series. He was awarded an OBE in 1998 and his first Discworld novel for children, The Amazing Maurice and His Educated Rodents, was awarded the 2001 Carnegie Medal.