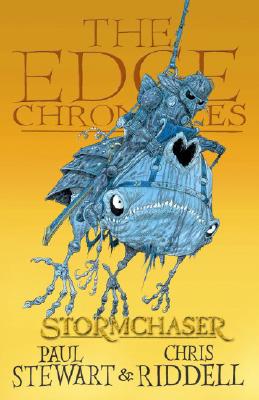 The Edge Chronicles 2 (Paperback)
Stormchaser
Corgi, 9780552554237, 400pp.
Publication Date: August 1, 2006
* Individual store prices may vary.
Description
Reissued in a stunning new cover look, the second in the Twig sequence of the Edge Chronicles.
     Since his childhood in the Deepwoods, young Twig has always longed to soar above the forest canopy and explore the sky. Now a lowly crew-member on his father's sky pirate ship, the Stormchaser, his dream seems fulfilled. But a much higher destiny awaits Twig as plots and treacheries from many years ago bring the lofty city of Sanctaphrax -- home of the Edgeworld's most learned academics -- to the point of disaster.

     For the city is built on a giant rock, floating high in the sky, its future balance dependent on stormphrax -- a valuable yet extremely volatile substance obtained only from the heart of a Great Storm at the very instant it unleashes its most intense power. And only a ship such as the Stormchaser could risk entering the Storm.
About the Author
PAUL STEWART and CHRIS RIDDELL are the creators of the hugely successful "Edge Chronicles," which have sold over two million copies and have been translated into over thirty languages worldwide. Their other collaborations include the Barnaby Grimes series and the "Far Flung Adventures," the first of which, "Fergus Crane," won the 2004 Gold Smarties Prize.

PAUL STEWART is the author of a number of previous titles for children including "The Midnight Hand" and "The Wakening" (a Federation of Children's Book Groups Pick of the Year).
Praise For The Edge Chronicles 2: Stormchaser…
"Action-packed"
—The Guardian

"Chris Riddell's superb illustrations are part and parcel of Paul Stewart's excellent fantasy series, The Edge Chronicles. The second, Stormchaser, is as action-packed as its predecessor"
—Guardian

"For children who've read the Harry Potter books and want another world to explore.. Just fantasy and adventure, and wonderful line drawings"
—Mail on Sunday

"Stewart's compulsive storytelling, perfectly complemented by Riddells' fine-lined illustrations, makes it all good stuff"
—amazon.co.uk (website Jan 2000)

"The story and the vast array of characters are captivating. .I became totally engrossed in this tale of young Twig, the quest for stormphrax, the worldscape and the landscape. The structure of the plot is as delicately poised as a sky-floating rock and the exuberant detail gives constant delight. This is more than a read; it kidnaps and transports the reader"
—The School Librarian
or
Not Currently Available for Direct Purchase