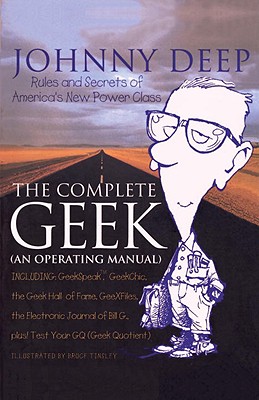 The Complete Geek (an Operating Manual): Rules and Secrets of America's New Power Class (Paperback)
Rules and Secrets of America's New Power Class
Broadway Books, 9780553061734, 224pp.
Publication Date: December 20, 2001
Description
Geeks rule the world--with a straight edge, of course--and they have become the sex symbols of the 90s. The Complete Geek (An Operating Manual) is for the millions of Americans eager to jump on the hot, new, fast track, because if you want a piece of the action, then you gotta learn the language. Zeke the Geek--brought to life by renowned cartoonist Bruce Tinsley--browses through the basics of geek culture, which covers everything and anything to do with computers and life in the information age, including:
GeekSpeak--the geek's own colorful lingo
GeekChic and GeekGirlChic--How to dress for geek success, with never before shared tips on the forever classic pocket protector
Understanding the Geek Code after dark, in a section called, "Everything I Need to Know I Learned Late Last Night"
Netiquette--What every newbie needs to know before a maiden voyage online (You wouldn't want to flame someone you just met, would you?)
The first ever GQ exam to explore your Geek Quotient
The seven habits of highly successful geeks
The history of Geeks--how they have evolved throughout the ages
"I'm Awkward, You're Awkward--and That's Okay"--the secrets of geek dating rituals For anyone who wants to win friends and influence geeks, The Complete Geek (An Operating Manual) is cRAMmed with the solid information that will unlock the gates to their universe.
About the Author
Alpha geek John Deep is the creator of the-geek.com, a website for lovers of all things geeky. He is also the author of Designing Interactive Documents and Developing CGI Applications; and the developer of the Cyber Classroom, an award-winning software program. Deep graduated from Harvard.
Advertisement