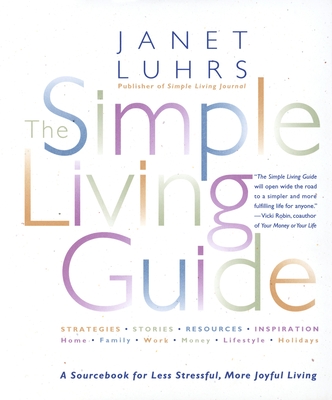 The Simple Living Guide (Paperback)
Harmony, 9780553067965, 464pp.
Publication Date: November 3, 1997
Description
In The Simple Living Guide Janet Luhrs demonstrates how to live a deliberate, simpler life--and savor it.
As Janet Luhrs says, "Simple living is about living deliberately. Simple living is not about austerity, or frugality, or income level. It's about being fully aware of why you are living your particular life, and knowing that life is one you have chosen thoughtfully. Simple living is about designing our lives to coincide with our ideals."
Whether you are looking at small solutions for cutting down the stress in your life or taking the big leap toward the simpler life, this book can be your guide. Janet Luhrs, the nationally recognized founder and editor of the Simple Living Journal, brings together strategies, inspiration, resources, and real-life profiles of people who have slowed down, overcome obstacles, and created richer lives.
Discover Simple Living approaches to: money, work, holidays, cooking and nutrition, health and exercise, clutter, gardening, travel, and more.
About the Author
Janet Luhrs gave up a law career to practice voluntary simplicity, and she is now a journalist and the editor and publisher of Simple Living: The Journal of Voluntary Simplicity. Her quarterly newsletter, which has been called "the nation's premier newsletter on voluntary simplicity" (Boston Globe), as well as her own personal simplifying journey have been featured in U.S. News & World Report, the Wall Street Journal, the New York Times, and on Donahue. A regular guest on NPR, she lives with her two children in Seattle, Washington.
Praise For The Simple Living Guide…
"The Simple Living Guide will open wide the road to a simpler and more fulfilling life for anyone."
--Vicki Robin, co-author of Your Money or Your Life

"Everything you ever wanted to know about simplification is in the pages of Janet Luhrs's The Simple Living Guide. It is truly an encyclopedic work."
--Elaine St. James, author of Simplify Your Life and Living the Simple Life

"Janet Luhrs has a keen eye and a big heart. With wit and wisdom, she draws an empowering map for anyone wanting to find a way of life that is more sustainable, satisfying, and soulful. The Simple Living Guide is a trove of knowledge and stories that inspire one to explore the riches of the simple life."
--Duane Elgin, author of Voluntary Simplicity and Awakening the Earth
Advertisement