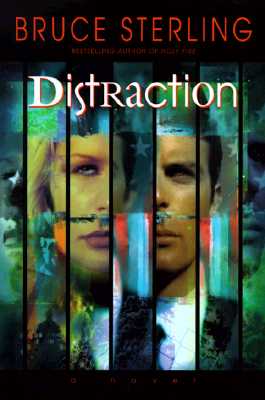 Distraction (Hardcover)
Spectra Books, 9780553104844, 448pp.
Publication Date: December 1, 1998
* Individual store prices may vary.
or
Not Currently Available for Direct Purchase
Description
From Bruce Sterling, bestselling author of Heavy Weather and Holy Fire, comes this startling, disturbing, and darkly comic vision of the future of America.It is the story of a once great nation coming apart at the seams while an unending spectacle of politics, science, sex, and corruption has everyone too busy to notice....
It's November 2044, an election year, and the state of the Union is a farce.The federal government is broke, cities are privately owned, the military is shaking down citizens in the streets, and Wyoming is on fire.The last place anyone expects to find an answer is the nation's capital.
Washington has become a circus and no one knows that better than Oscar Valparaiso.A master political spin doctor, Oscar has been in the background for years, doing his best to put the proper spin on anything that comes up.Now he wants to do something quite unusual in politics.He wants to make a difference.But Oscar has a skeleton in his closet: a grotesque and unspeakable scandal that haunts his personal life.
He has one unexpected ally: Dr. Greta Penninger.She is a gifted neurologist at the bleeding edge of the neural revolution.Together Oscar and Greta know the human mind inside and out.And they are about to use that knowledge to spread a very powerful message: that it's a government of the people, by the people, and for the people.It's an idea whose time has come...again.And once again so have its enemies: every technofanatic, government goon, and reactionary laptop assassin in America.
Like all revolutionaries, Oscar and Greta might not survive to change the world, but they're determined to put a new spin on it.
About the Author
Bruce Sterling is the author of the nonfiction book The Hacker Crackdown, as well as the novels Holy Fire, Heavy Weather, Schismatrix, and Islands in the Net.With William Gibson he co-authored the acclaimed novel The Difference Engine.He also writes popular science and travel journalism.He lives with his wife and two daughters in Austin, Texas."
Advertisement