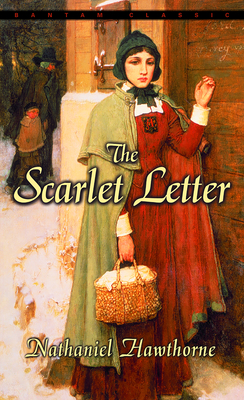 The Scarlet Letter (Mass Market)
Bantam Classics, 9780553210095, 256pp.
Publication Date: February 1, 1981
Other Editions of This Title:
Paperback (3/29/2013)
Paperback (6/6/2016)
Paperback (1/27/2019)
Paperback (1/27/2019)
Paperback (8/27/2013)
Paperback (10/5/2008)
Paperback (9/2/2016)
Paperback (12/19/2018)
Paperback (2/5/2014)
Paperback (11/7/2011)
Paperback (10/25/2005)
Paperback (11/2/2006)
Paperback (10/13/2017)
Paperback (11/28/2017)
Paperback (12/7/2015)
Paperback (3/27/2017)
Paperback (12/31/2009)
Paperback (9/10/2013)
Paperback (12/8/2015)
Paperback (9/18/2012)
* Individual store prices may vary.
Description
Hailed by Henry James as "the finest piece of imaginative writing yet put forth in the country," Nathaniel Hawthorne's The Scarlet Letter reaches to our nation's historical and moral roots for the material of great tragedy. Set in an early New England colony, the novel shows the terrible impact a single, passionate act has on the lives of three members of the community: the defiant Hester Prynne; the fiery, tortured Reverend Dimmesdale; and the obsessed, vengeful Chillingworth.

With The Scarlet Letter, Hawthorne became the first American novelist to forge from our Puritan heritage a universal classic, a masterful exploration of humanity's unending struggle with sin, guilt and pride.
About the Author
Hawthorne was a novelist and short-story writer, born in Salem, MA. Educated at Bowdon College, he shut himself away for 12 years to learn to write fiction. His first major success was the novel The Scarlet Letter (1850), still the best known of his works. Other books include The House of the Seven Gables (1851), The Snow Image (1852), and a campaign biography of his old schoolfriend, President Franklin Pierce, on whose inauguration Hawthorne became consul at Liverpool (1853--7). Only belatedly recognized in his own country, he continued to write articles and stories, notably those for the Atlantic Monthly, collected as Our Old Home
Praise For The Scarlet Letter…
"[Nathaniel Hawthorne] recaptured, for his New England, the essence of Greek tragedy." --Malcolm Cowley