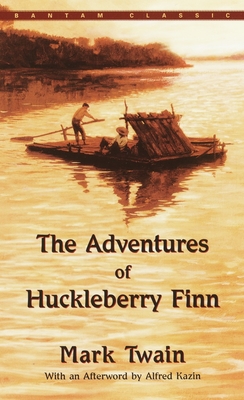 The Adventures of Huckleberry Finn (Mass Market)
Bantam Classics, 9780553210798, 320pp.
Publication Date: February 1, 1981
Other Editions of This Title:
Digital Audiobook (4/26/2000)
Digital Audiobook (9/30/2010)
Digital Audiobook (3/13/2008)
Digital Audiobook (5/31/2000)
Digital Audiobook (12/31/2006)
Paperback (1/31/2018)
Paperback (2/27/2018)
Paperback (11/27/2016)
Paperback (8/29/2013)
Paperback (6/16/2007)
Paperback (5/23/2019)
Paperback (10/3/2019)
Paperback (7/24/2019)
Paperback (1/11/2018)
Paperback (4/2/2018)
Paperback (3/8/2018)
* Individual store prices may vary.
Description
Hilariously picaresque, epic in scope, alive with  the poetry and vigor of the American people, Mark  Twain's story about a young boy and his journey  down the Mississippi was the first great novel to  speak in a truly American voice. Influencing  subsequent generations of writers -- from Sherwood  Anderson to Twain's fellow Missourian,  T.S. Eliot, from Ernest Hemingway and William  Faulkner to J.D. Salinger --  Huckleberry Finn, like the river  which flows through its pages, is one of the great  sources which nourished and still nourishes the  literature of America.
About the Author
The Modern Library has played a significant role in American cultural life for the better part of a century. The series was founded in 1917 by the publishers Boni and Liveright and eight years later acquired by Bennett Cerf and Donald Klopfer. It provided the foundation for their next publishing venture, Random House. The Modern Library has been a staple of the American book trade, providing readers with affordable hardbound editions of important works of literature and thought. For the Modern Library's seventy-fifth anniversary, Random House redesigned the series, restoring as its emblem the running torch-bearer created by Lucian Bernhard in 1925 and refurbishing jackets, bindings, and type, as well as inaugurating a new program of selecting titles. The Modern Library continues to provide the world's best books, at the best prices.
Praise For The Adventures of Huckleberry Finn…
"All modern American literature comes from one book by Mark Twain called Huckleberry Finn. It's the best book we've had." --Ernest Hemingway